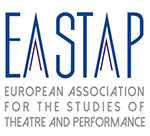 European Journal for Theater and Performance, n° 1
European Journal for Theater and Performance, n° 1, EASTAP, 2019.
Le premier numéro de European Journal of Theatre and Performance, la revue de l'association EASTAP, vient de paraître. Cette association créée en 2017 et présidée par Josette Féral, veut rassembler chercheurs et artistes et promouvoir les diverses approches et méthodes de recherche utilisées en théâtre et performance. C'est à cette entreprise que contribue également la revue. Elle se propose d'établir un dialogue étroit entre la théorie et la pratique, un lieu où le théâtre peut réfléchir sur lui-même en lien avec le monde qui nous entoure. Elle aspire également à développer le jugement critique au cœur des concepts esthétiques et théâtraux en Europe et au-delà. 
Placée sous la responsabilité d'Agata Łuksza et Didier Plassard, rédacteurs en chef, la revue sera publiée annuellement. Chaque numéro comprendra 4 sections : une partie Essays réunissant des articles choisis autour d'une problématique spécifique à chaque numéro, une partie Focus centrée sur un(e) artiste de la scène, une partie From the Archives qui rendra accessible des documents inédits ou difficilement accessibles, et enfin une section Book Reviews qui portera sur des livres parus dans la discipline. Publiée pour l'essentiel en anglais, la revue est également ouverte à des articles dans d'autres langues. La lecture de chaque nouveau numéro est payante pendant un an pour les non membres, en libre accès au terme de ce délai.
Le numéro 1 de la revue qui vient de paraître est centré sur la problématique de l'Europe. La partie Essays, intitulée Spectres of Europe: European Theatre between Communitarianism and Cosmopolitanism, est constituée d'articles rassemblés par Aldo Milohnic et Agata Łuksza. Ils interrogent les relations de la production théâtrale avec les questions du communautarisme et du cosmopolitisme, en particulier la façon dont les artistes et les institutions théâtrales sont intervenus de manière critique dans les débats sur les identités nationales, européennes ou citoyennes.
Le Focus consacré à Milo Rau rassemble des textes et des entretiens inédits ainsi qu'un choix de photographies de différentes productions.
 La partie From the Archives présente une pièce de théâtre inédite du metteur en scène et théoricien Edward Gordon Craig, The Skeleton, accompagnée de ses deux épilogues, datés comme la pièce de 1916.
L'accès à la revue est gratuit pour les membres de l'association EASTAP.
European Journal of Theatre and Performance
Number 1 (2019).    Table of contents
Presentation, by the Editors.
Essays. Spectres of Europe: European Theatre between Communitarianism and Cosmopolitanism (editors: Agata Łuksza, Aldo Milohnic).
Introduction, by Agata Łuksza and Aldo Milohnic.
Singular Plural Theatre: Representation, Identity Politics and Appropriation in Contemporary Theatre and Theory after Brecht and Marx, by Nikolaus Müller-Schöll.
Alle soglie d'Europa: Il Good Chance Theatre e la sperimentazione di linguaggi performativi nei centri di prima accoglienza e nei campi per rifugiati, by Rosaria Ruffini.
Lemon Juicer Merkel: Where the Real and the Fictional Europe Meet. Exploring Thomas Bellinck's Domo de Eŭropa Historio en Ekzilo, by Jasper Delbecke.
The Politics of Humour and Nostalgia in Dutch Cabaret, by Dick Zijp.
The "Easthetics" of the NSK, by Simon Bell.
The Paradoxes of Kosovo in the Theatre of Jeton Neziraj, by Anna Maria Monteverdi.
Roots and Routes: Kingston-upon-Hull-upon-Stage during UK City of Culture 2017, by Tom Nicholas.
La face larvée de l'Europe: Breivik's Statement de Milo Rau, by Kathrin-Julie Zenker.
Artist in Focus. Milo Rau (editor: Lorenzo Mango).
Form and Politics: An Introduction to the Theatre of Milo Rau, by Lorenzo Mango.
Tribunal is Another Word for Tragedy, interview with Milo Rau by Lorenzo Mango.
Créer avec Milo Rau, interview with Sébastien Foucault by Nancy Delhalle.
The Ghent Manifesto, by Milo Rau.
Enlightened Catastrophism, a Conversation between Milo Rau and Harald Wolff.
Portfolio.
From the Archives. The Skeleton, an unpublished drama by Edward Gordon Craig (editor: Didier Plassard).
Edward Gordon Craig's contribution to post-dramatic playwriting, introduction by Didier Plassard.
The Skeleton – A Mystery, by Edward Gordon Craig.
Epilogue 1 (Enter Jane), by Edward Gordon Craig.
Epilogue 2 (A Note to the Reader), by Edward Gordon Craig.
Book Reviews (editors: Marie-João Brilhante, Milija Gluhovic).
Bernátek, Martin, et al., Czech Theatre Photography, review by Petr Christov.
Fitzpatrick, Lisa, Rape on the Contemporary Stage, review by María Estrada Fuentes.
Heinrich, Anselm, Theatre in Europe under German Occupation, review by Lisa Skwirblies.
Klimczyk, Wojciech, Wirus mobilizacji. 1-2, review by Agata Chałupnik.
Puchner, Walter, Folk Theatre Studies Ι-II, review by Eleni Papalexiou.
Talon-Hugon, Carole, Le Conflit des héritages. Avignon 2005, review by Christine Zurbach.
DALINGER Brigitte, ZANGL Veronika (ed), Theater unter NS-Herrschaft, review by Lisa Skwirblies.
DROST David & alii (ed), Theatre Theory Reader. Prague School Writings, review by Mariana Kunesova.
Wilmer, S. E., Performing Statelessness in Europe, review by Szabolcs Musca.
Xepapadakou, Avra, Pavlos Carrer, review by Eleni Papalexiou.
Yamomo, MeLê, Theatre and Music in Manila and the Asia Pacific, review by Felipe Cervera.
Editorial Board :  Maria-Joaõ BRILHANTE (Lisbon), Nancy DELHALLE (Liège), Milija GLUHOVIĆ (Warwick), Lorenzo MANGO (Naples), Aldo MILOHNIĆ (Ljubljana).
Advisory Board :  Christopher BALME (Munich), Georges BANU (Paris), Annamaria CASCETTA (Milano), Petr Christov (Prague), Eleni PAPALEXIOU (Univ. of Peloponnese), Tiina ROSENBERG (Stockholm), Adolfo AYUSO ROY (Zaragoza), Dorota SAJEWSKA (Zurich), Weronika SZCZAWIŃSKA (artistic director, Wojciech Bogusławski Theatre, Kalisz), Tiago RODRIGUES (National Theatre D. Maria II/Lisbon).
Managing Editor :   Stefania LODI RIZZINI
Rights and  legal questions : Klaas Tindemans