essai|
Nouvelle parution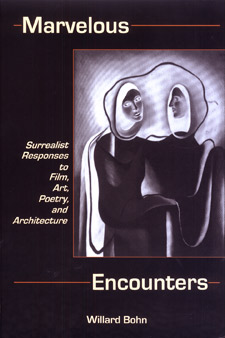 Willard Bohn, Marvelous Encounters: Surrealist Responses to Film, Art, Poetry, and Architecture
Willard Bohn,  Marvelous Encounters: Surrealist Responses to Film, Art, Poetry, and Architecture, Bucknell University Press, 2005. 252 pages
Includes bibliographical references and index
ISBN 0-8387-5611-5
LC 2005000366
$50.00
Le concept de poesie critique - poésie qui possède une fonction poétique et critique a la fois - possède une longue histoire dans la littérature moderne. Engendré par une autre oeuvre d'art, le poème critique fournit un commentaire sur celle-ci mais refuse d'abandonner sa mission poétique. Marvelous Encounters (Rencontres merveilleuses) examine des poètes surréalistes écrivant en français, en espagnol et en catalan qui ont experimenté avec ce genre fascinant.

Not surprisingly, since they were fascinated by the creative process, Surrealist poets drew their inspiration from other works of art on a number of occasions. The present study analyzes the various ways in which they crafted a textual response to these artworks—many of which were created by fellow Surrealists. It considers thirty-three examples (including two plays) written in French, Spanish, and Catalan by writers living in half a dozen countries. Some of the texts are concerned with other literary works. Most are devoted to the visual arts including sculpture, painting, drawing, collage, film, and (in one instance) architecture. Illustrated. The artists who originally inspired them include Picasso, de Chirico, Míro, Dalí, Chaplin, Ernst, and Rauschenberg.
Willard Bohn is Distinguished Professor of French and Comparative Literature at Illinois State University.