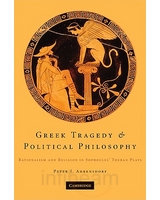 P. J. Ahrensdorf, Greek Tragedy and Political Philosophy: Rationalism and Religion in Sophocles' Theban Plays
Cambridge University Press
EAN: 9780521515863

Peter J. Ahrensdorf, Greek Tragedy and Political Philosophy: Rationalism and Religion in Sophocles' Theban Plays.   Cambridge/New York:  Cambridge University Press, 2009.  Pp. x, 192.
ISBN 9780521515863.  
$80.00.  
Extraits en ligne sur le site de l'éditeur et sur amazon.com.

Recension par Cressida Ryan (University of Nottingham) dans Bryn Mawr Classical Review 2010.05.22.
Présentation de l'éditeur:
In Greek Tragedy and Political Philosophy, Peter J. Ahrensdorf examines Sophocles' powerful analysis of a central question of political philosophy and a perennial question of political life: Should citizens and leaders govern political society by the light of unaided human reason or religious faith?
Through a fresh examination of Sophocles' timeless masterpieces – Oedipus the Tyrant, Oedipus at Colonus, and Antigone – Ahrensdorf offers a sustained challenge to the prevailing view, championed by Nietzsche in his attack on Socratic rationalism, that Sophocles is an opponent of rationalism. Ahrensdorf argues that Sophocles is a genuinely philosophical thinker and a rationalist, albeit one who advocates a cautious political rationalism. Such rationalism constitutes a middle way between an immoderate political rationalism that dismisses religion – exemplified by Oedipus the Tyrant – and a piety that rejects reason – exemplified by Oedipus at Colonus.
Ahrensdorf concludes with an incisive analysis of Nietzsche, Socrates, and Aristotle on tragedy and philosophy. He argues, against Nietzsche, that the rationalism of Socrates and Aristotle incorporates a profound awareness of the tragic dimension of human existence and therefore resembles in fundamental ways the somber and humane rationalism of Sophocles.
Peter J. Ahrensdorf is professor of political science and adjunct professor of classics at Davidson College. He is the author of The Death of Socrates and The Life of Philosophy: An Interpretation of "Phaedo" and the co-author of Justice Among Nations: On the Moral Basis of Power and Peace.
Table des matières:
Introduction
1     Oedipus the Tyrant and the Limits of Political Rationalism
2     Blind Faith and Enlightened Statesmanship in Oedipus at Colonus
3     The Pious Heroism of Antigone
Conclusion: Nietzsche, Plato, and Aristotle on Philosophy and Tragedy

Bibliography
Index