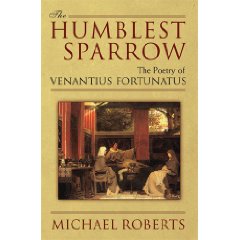 M. Roberts, The Humblest Sparrow: The Poetry of Venantius Fortunatus
University of Michigan Press
EAN: 9780472116836
Michael Roberts, The Humblest Sparrow: The Poetry of Venantius Fortunatus,  Ann Arbor: University of Michigan Press, 2009. Pp. xii, 364.
ISBN 9780472116836.
$85.00.
Recension par John Moorhead (The University of Queensland) dans Bryn Mawr Classical Review 2010.01.22.
Extraits en ligne sur books.google.

Présentation de l'éditeur:
In The Humblest Sparrow, Michael Robertsilluminates the poetry of the sixth-century bishop and poet VenantiusFortunatus. Often regarded as an important transitional figure,Fortunatus wrote poetry that is seen to bridge the late classical andearlier medieval periods. Written in Latin, his poems combined theinfluences of classical Latin poets with a medieval tone, giving him aspecial place in literary history. Yet while interest has been growingin the early Merovingian period, and while the writing of Fortunatus'patron Gregory of Tours has been well studied, Fortunatus himself hasoften been neglected. This neglect is remedied by this in-depth study,which will appeal to scholars of late antique, early Christian, andmedieval Latin poetry. Roberts divides Fortunatus' poetry into threemain groups: poetry of praise, hagiographical poetry, and personalpoetry. In addition to providing a general survey, Roberts discusses indetail many individual poems and proposes a number of theses on thenature, function, relation to social and linguistic context, andsurvival of Fortunatus' poetry, as well as the image of the poetcreated by his work.
Michael Roberts is Robert Rich Professor of Latin at Wesleyan University.