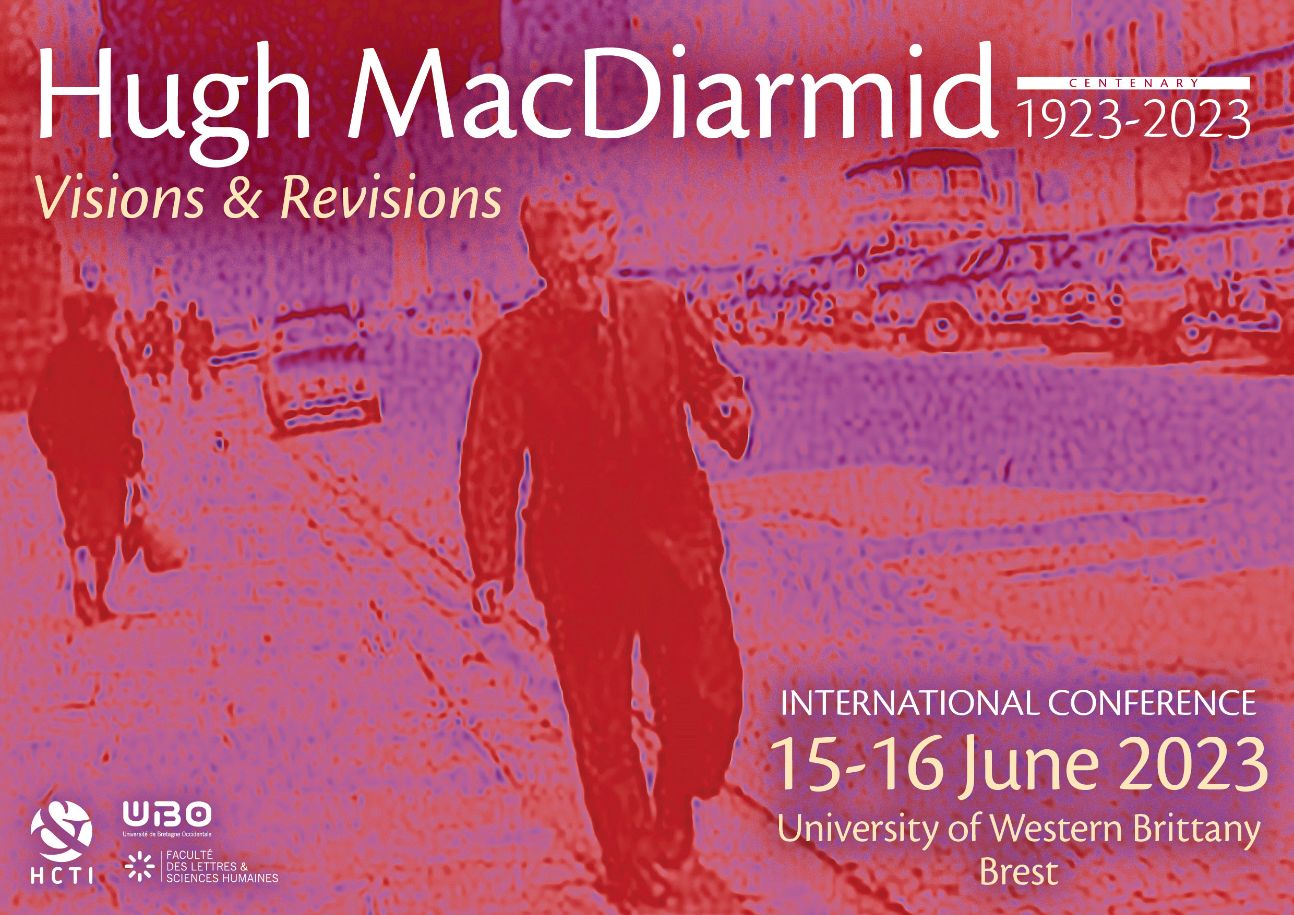 Hugh MacDiarmid 1923-2023 : Visions & Revisions (Brest)
Date de tombée (deadline) :
À : University of Western Brittany - Brest
Hugh MacDiarmid 1923-2023: Visions and Revisions
Organised by Camille Manfredi (University of Western Brittany), Philippe Laplace (University of Franche-Comté), Lindsay Blair (University of the Highlands and Islands), Alan Riach (University of Glasgow), Fiona Paterson (University of Glasgow), Monika Szuba (University of Gdańsk).
University of Western Brittany, Brest, 15-16 June 2023
Call for papers
I'll ha'e nae hauf-way hoose, but aye be whaur
Extremes meet - it's the only way I ken
To dodge the curst conceit o' bein' richt
That damns the vast majority o' men.
A Drunk Man Looks at the Thistle (1926)
On the centenary of the publication of Annals of the Five Senses, this international Hugh MacDiarmid conference will examine MacDiarmid's / Grieve's achievements, commitments, and the mark he has left on the literary and political landscapes of Scotland and Europe. 100 years on, through the tumultuous twentieth century and into the twenty-first century uncertainties of Indyref and Brexit, we are at a critical moment, and the role of the poet in capturing and responding to collective anxieties and hopes has possibly never been more important. We will explore the enduring significance of MacDiarmid's engagement with and challenging of important themes and concerns – what might his poetry have to say about ecology and the climate crisis, or about the kind of loss and isolation we have all experienced as a result of the COVID-19 pandemic, about the perils of imperial expansion?
The conference aims to bring together an international group of established and emerging scholars who approach MacDiarmid's oeuvre from a variety of interdisciplinary perspectives including literary criticism, historical and cultural studies, postcolonial theory, translation studies and linguistics, so as to answer such questions.
In 1927 MacDiarmid could only bemoan that "Scotland has ceased to hold any distinctive place in the political or cultural map of Europe" (Albyn, or Scotland and the Future). By investigating MacDiarmid's innovative literary and linguistic styles, provocative political stance(s) and indisputable influence on Scottish cultural and ideological narratives in the 1920s and 1930s, we will consider how Hugh MacDiarmid – through his poems – and Christopher Murray Grieve – through his prose – helped to change this, in (re)defining Scotland as a nation and revitalising Scottish culture, giving the former its political impetus and the latter its literary significance.
The organizers invite proposals that focus on, but are not limited to:
- Hugh MacDiarmid: life, achievements and legacy
- Influence and reception in Europe and beyond, 1923-2023
- MacDiarmid and the Scottish Renaissance
- MacDiarmid and Scottish Writers
- Anthologizing / (De)Canonizing MacDiarmid
- (De)Politicizing MacDiarmid
- MacDiarmid and Ireland
- MacDiarmid and Language: synthesis, translation, experimentation
- MacDiarmid and the natural world
- MacDiarmid / Grieve and the maritime imagination
- MacDiarmid and the feminine
- MacDiarmid and the Caledonian Antisyzygy
- MacDiarmid and the Gaelic / Russian Idea
- Imaging, filming, performing, translating MacDiarmid
The organising committee will also welcome proposals that offer a creative response to MacDiarmid / Grieve's poetry and prose.
Please send a 200-word abstract along with a short biography by 30 November 2022 to camille.manfredi@univ-brest.fr
Abstract acceptance will be notified to all contributors by 15 January 2023.