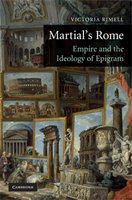 V. Rimell, Martial's Rome: Empire and the Ideology of Epigram
Cambridge University Press
EAN: 9780521828222

Victoria Rimell, Martial's Rome: Empire and the Ideology of Epigram.   Cambridge/New York:  Cambridge University Press, 2009.  Pp. viii, 231.  
ISBN 9780521828222.  
$99.00.  
Recension par John Alexander Lobur (University of Mississippi) dans Bryn Mawr Classical Review 2010.05.53.
Présentation de l'éditeur:
This provocative book is a major contribution to our understanding of Martial's poetics, his vision of the relationship between art and
reality, and his role in formulating modern perceptions of Rome. The study shows how, on every scale from the microscopic to the cosmic, Martial displays epigram's ambition to enact the sociality of urban life, but also to make Rome rise out of epigram's architecture and gestures. Martial's distinctive aesthetic, grounded in paradox and inconsistency, ensures that the humblest, most throwaway poetic form is best poised to capture first-century empire in all its dazzling complexity. As well as investigating many of Martial's central themes – monumentality, economics, death, carnival, exile – this book also questions what kind of a mascot Martial is for classics today in our own advanced, multicultural world. It will be an invaluable guide for scholars and students of classical literature and Roman history.
Victoria Rimell is Associate Professor of Latin Literature in the Department of Greek and Latin Philology, Sapienza, University of Rome.
Table des matières:
Introduction: Getting to know Martial 1
1 Contagion and copyright: the city as text 19
2 Vigor mortis: living and dying 51
3 Poetic economies: figuring out Martial's maths 94
4 Mundus inversus: Martial's Saturnalia 140
5 The space of epigram 181
Epilogue 207
Bibliography 211
Index of Epigrams discussed 225
Index of subjects 230