essai|
Nouvelle parution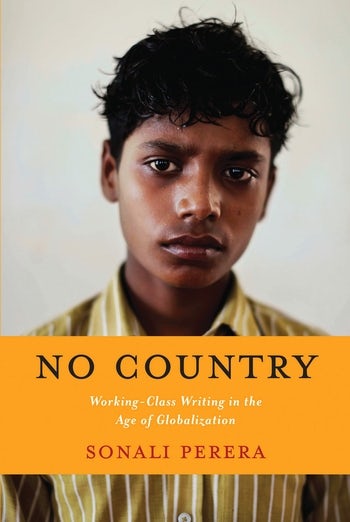 S. Perera, No Country. Working-Class Writing in the Age of Globalization
No Country. Working-Class Writing in the Age of Globalization
Sonali Perera
Columbia University Press
ISBN: 9780231151955
248 pages
30,00 $
PRÉSENTATION
Can there be a novel of the international working class despite the conditions and constraints of economic globalization? What does it mean to invoke working-class writing as an ethical intervention in an age of comparative advantage and outsourcing? 

No Country argues for a rethinking of the genre of working-class literature. Sonali Perera expands our understanding of working-class fiction by considering a range of international texts, identifying textual, political, and historical linkages often overlooked by Eurocentric and postcolonial scholarship. Her readings connect the literary radicalism of the 1930s to the feminist recovery projects of the 1970s, and the anticolonial and postcolonial fiction of the 1960s to today's counterglobalist struggles, building a new portrait of the twentieth century's global economy and the experiences of the working class within it.

Perera considers novels by the Indian anticolonial writer Mulk Raj Anand; the American proletarian writer Tillie Olsen; Sri Lankan Tamil/Black British writer and political journalist Ambalavaner Sivanandan; Indian writer and bonded-labor activist Mahasweta Devi; South African-born Botswanan Bessie Head; and the fiction and poetry published under the collective signature Dabindu, a group of free-trade-zone garment factory workers and feminist activists in contemporary Sri Lanka. Articulating connections across the global North-South divide, Perera creates a new genealogy of working-class writing as world literature and transforms the ideological underpinnings casting literature as cultural practice.
ABOUT THE AUTHOR
Sonali Perera is associate professor at Hunter College and the Graduate Center, City University of New York, where she teaches courses in postcolonial literature and theory, working-class literature, feminist theory, and globalization studies.
REVIEWS
Sonali Perera's No Country offers a powerful new theorizing of working-class literature in a global dimension. Gender inflections are given in unprecedented detail, through deeply learned and meticulously documented close readings of an astonishingly diversified collection of texts. Perera's readings of Marx are relevant to contemporary realities. Gayatri Chakravorty Spivak, University Professor, Columbia University
A timely, intellectually ambitious, and original piece of work. It hopes both to reinvigorate critical interest in a complex genre/period category and, in the same movement, to provoke new thinking about such major categories as class, history, and literature itself. Ellen Rooney, Brown University