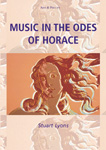 S. Lyons, Music in the Odes of Horace
Aris & Phillips
EAN: 9780856688447
Stuart Lyons, Music in the Odes of Horace, Oxford: Aris & Phillips, 2010. 208 p.
$80.00.
ISBN 9780856688447. 
Recension par Nina Mindt (Humboldt-Universität zu Berlin) dans Bryn Mawr Classical Review 2010.06.24.
Présentation de l'éditeur:

Following the success of Horace's Odes and the Mystery of Do-Re-Mi in which he proposed that Horace's Odes were truly carmina (songs), Stuart Lyons further explores the orality of the Odes in both the Augustan Age and their early medieval reception.
Challenging the perception of the Odes as purely literary works anddrawing on extensive evidence in Horace and other ancient sources,Lyons argues that Horace's objective was to produce a unique type ofperformance art, a Latin re-interpretation of Greek lyric song toentertain the Roman elite.
In post-Carolingian manuscripts, thereare several instances of musical notation for the Odes. Some was tohelp students articulate their Latin, but other notation recordsperformance works. Lyons shows that the arrangement for the Ode toPhyllis in the Montpellier manuscript and Guido d'Arezzo's do-re-mimnemonic share a common ancestor. The long-hidden St Petersburg codexis a virtual songbook with sixteen melodies reflecting secular as wellas monastic traditions. These and other manuscripts provide persuasiveevidence that Horace was sung for entertainment as well as teaching.
While there is no provable link between early medieval performance andHorace's own practice, Lyons argues that the Horace of the Odes was amusical innovator, songwriter and entertainer, as well as a literarycraftsman, and sang much of his lyric poetry to the accompaniment ofhis own lyre. With 50 illustrations and a comprehensive set of indexesthis book will stimulate and inform both classicists and musicalhistorians.