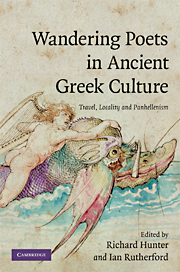 R. Hunter, I. Rutherford (dir.), Wandering Poets in Ancient Greek Culture: Travel, Locality and Pan-Hellenism
Cambridge University Press
EAN: 9780521898782

Richard Hunter, Ian Rutherford (dir.), Wandering Poets in Ancient Greek Culture: Travel, Locality and Pan-Hellenism.   Cambridge/New York:  Cambridge University Press, 2009.  Pp. xiv, 313.  
ISBN 9780521898782.  
$99.00.  

Recension par Roosevelt Rocha (Federal University of Paraná, Brazil) dans Bryn Mawr Classical Review 2010.01.55.
Extraits en ligne sur le site de l'éditeur et amazon.co.uk.

Présentation de l'éditeur:
Although recent scholarship has focused on the city-state as thecontext for the production of Greek poetry, for poets and performerstravel was more the norm than the exception. This book traces thiscentral aspect of ancient culture from its roots in the near Easternsocieties which preceded the Greeks, through the way in which earlysemi-mythical figures such as Orpheus were imagined, the poets whotravelled to the brilliant courts of archaic tyrants, and on into thefluid mobility of imperial and late antique culture. The emphasis isboth on why poets travelled, and on how local communities used theskills of these outsiders for their own purposes. Wandering poets arealso set within the wider context of ancient networks of exchange,patronage and affiliation between communities and are seen as oneparticularly powerful manifestation of a feature of ancient life whichis too often overlooked.
• First such study devoted to this crucial aspect of Greek poetic production• The contributors are some of the foremost experts in Greek literature writing in the world today• It is wide-ranging in terms of chronology and innovative and inclusive in methodology
Table des matières:
1. Introduction Richard Hunter and Ian Rutherford;
2. Hittite and Greekperspectives on travelling poets, texts and festivals Mary Bachvarova;
3. Thamyris the Thracian: the archetypal wandering poet? Peter Wilson;
4. Read on arrival Richard P. Martin;
5. Wandering poets, archaic styleEwen Bowie;
6. Defining local communities in Greek lyric poetry GiovanBattista D'Alessio;
7. Wandering poetry, 'travelling' music: Timotheus'Muse and some case-studies of shifting cultural identities LuciaPrauscello;
8. Epigrammatic contest, poeti vaganti, and local historyAndrej Petrovic;
9. World travellers: the associations of Artists ofDionysus Sophia Aneziri;
10. Aristodama and the Aetolians: an itinerantpoetess and her agenda Ian Rutherford;
11. Travelling memories in theHellenistic world Angelos Chaniotis.