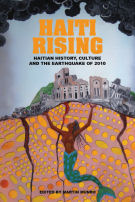 M. Munro, Haiti Rising: Haitian History, Culture and the Earthquake of 2010
University of the West Indies Press/University of Liverpool Press
EAN: 9789766402488
Martin Munro, Haiti Rising: Haitian History, Culture and the Earthquake of 2010, University of the West Indies Press/University of Liverpool Press, 2010.

Published in Europe by University of Liverpool Press
Price: £16.95; ISBN: 9781846314988
 Published in the U.S.A., Canada and the Caribbean by University of the West Indies Press
Price: $25.00; ISBN: 9789766402488
The earthquake that struck Haiti on January 12, 2010 thrust the nation into the public consciousness as never before. That terrible event piqued interest in a remarkable country with a rich history as both the first black republic in the world and the first country to break free of European imperialism in Latin America. Haiti Rising brings together more than 20 of the most prominent authorities on Haiti in to provide both a historical and cultural introduction to Haiti and a chance for earthquake survivors to testify to their experiences. Ranging widely across politics, society, history, art and culture, contributors such as Maryse Condé, Yanick Lahens, Evelyne Trouillot, J. Michael Dash and Laurent Dubois illuminate this most extraordinary of countries and the tragedy that befell it in 2010. Haiti Rising will stand as a written document of this cataclysmic event in Haitian history and as a monument to the experiences of those who were in Haiti at the time of the earthquake. It is vital reading for anyone who wants to find out more about Haiti, and the prospects for its future.
All royalties from the book will be donated to the Haitian Art Relief Fund.
"…essential reading for scholars, students and general readers interested in Haiti. It will also be of use for those involved in consciousness raising around Haiti over the coming years. This is an urgently required volume that I will recommend widely for its varied yet coherently focused content." Charles Forsdick, James Barrow Professor of French, University of Liverpool.
Contributors
Marlène Rigaud Apollon* Beverly Bell* Madison Smartt Bell* Patrick Bellegarde-Smith* LeGrace Benson* Jean Casimir* Maryse Condé* J. Michael Dash* Leslie G. Desmangles* Bill Drummond* Laurent Dubois* John D. Garrigus* Leah Gordon* Jason Herbeck* Régine Michelle Jean-Charles* Deborah Jenson* Yanick Lahens* Michel Le Bris* Elizabeth McAlister* Nadève Ménard* Raoul Peck* Matthew J. Smith* Thomas C. Spear* Évelyne Trouillot* Laura Wagner*
*Published in Europe by University of Liverpool Press
http://www.liverpool-unipress.co.uk/html/publication.asp?idProduct=3993

http://uwipress.com/index.php?option=com_virtuemart&page=shop.product_details&flypage=shop.flypage&category_id=24&product_id=348&Itemid=50

Martin Munro is Professor of French and Francophone Studies at Florida State University and the author, most recently, of Exile and Post-1946 Haitian Literature (LUP, 2007) and Different Drummers: Rhythm and Race in the Americas (California, 2010). His latest edited work is Edwidge Danticat: A Reader's Guide (Virginia, 2010).
Adresse : Dept. of Modern Languages Florida State University