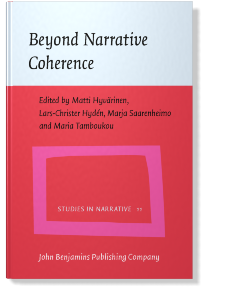 M. Hyvärinen, et al (dir.), Beyond Narrative Coherence
John Benjamins Publishing Company, coll. "Studies in Narrative"
EAN: 9789027226518
Information publiée le 16 janvier 2010 par Bérenger Boulay (source : NarrList)
Beyond Narrative Coherence

Edited by Matti Hyvärinen, Lars-Christer Hydén, Marja Saarenheimo and Maria Tamboukou
Philadelphia: John Benjamins Publishing Company, coll. "Studies in Narrative" n°11, 2010. vi-196 p.

Isbn 13: 978 90 272 2651 8
e-Book: 978 90 272 8855 4
90.00€ / USD 135.00
Présentation de l'éditeur:


Beyond Narrative Coherence reconsiders the way we understand andwork with narratives. Even though narrators tend to strive forcoherence, they also add complexity, challenge canonical scripts, andsurvey lives by telling highly perplexing and contradictory stories.Many narratives remain incomplete, ambiguous, and contradictory.Obvious coherence cannot be the sole moral standard, the onlyperspective of reading, or the criterion for selecting and discardingresearch material. Beyond Narrative Coherence addresses thelimits and aspects of narrative (dis)cohering by offering a richtheoretical and historical background to the debate. Limits ofnarrative coherence are discussed from the perspective of three fieldsof life that often threaten the coherence of narrative: illness, arts,and traumatic political experience. The authors of the book cover awide range of disciplines such as psychology, sociology, arts studies,political science and philosophy.
Sommaire:
Beyond narrative coherence: An introduction Matti Hyvärinen, Lars-Christer Hydén, Marja Saarenheimo and Maria Tamboukou 1–15 Weird stories: Brain, mind, and self Maria I. Medved and Jens Brockmeier 17–32 Identity, self, narrative Lars-Christer Hydén 33–48 'Mind-reading', a method for understanding the broken narrative of an aphasic man Tarja Aaltonen 49–66 Broken narratives, visual forces: Letters, paintings and the event Maria Tamboukou 67–86 Artists-in-progress: Narrative Identity of the Self as Another Linda Sandino 87–102 Breaking of self-narrative as a means of reorientation? Vilma Hänninen and Anja Koski-Jännes 103–119 "There is no fear in my lexicon" vs. "You are not normal if you won't be scared": A qualitative semiotic analysis of the 'broken' discourse of Israeli bus drivers who experienced terror attacks Alison Stern Perez, Yishai Tobin and Shifra Sagy 121–146 Beyond narrative: The shape of traumatic testimony Molly Andrews 147–166 Afterword: 'Even Amidst': Rethinking Narrative Coherence Mark Freeman 167–186 Index 191–196 List of contributors 187–189
Adresse : John Benjamins North America Inc., P.O. Box 27519, Philadelphia PA 19118-0519 Telephone: 215 836-1200 - Fax: 215 836-1204