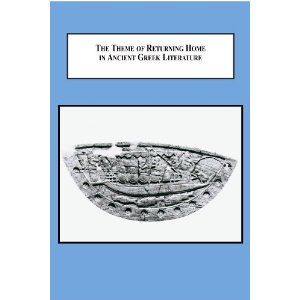 M. Alexopoulou, The Theme of Returning Home in Ancient Greek Literature: The Nostos of the Epic Heroes
Edwin Mellen Press
EAN: 9780773447202
Information publiée le 10 mai 2010 par Bérenger Boulay (source : BMCR)

Marigo Alexopoulou, The Theme of Returning Home in Ancient Greek Literature: The Nostos of the Epic Heroes,  Lewiston, N.Y.: Edwin Mellen Press, 2009.  Pp. viii, 150.  
ISBN 9780773447202.  
£64.95.  
Recension par Justine McConnell (University of London) dans Bryn Mawr Classical Review 2010.05.05.
Présentation de l'éditeur:
This book is about nostos, the return home of a hero. Although the importance of this topic has long been recognized by scholars, this is the first full length book on nostos both across a range of tragedies and in the light of the diverse cultural background of the motif. It shows how the elements of Homer's narrative were to be developed by later Greek poets, and particularly the fifth-century tragedians and the Hellenistic poets.
Table des matières:
1. Introduction
General
Nostos: a popular theme
Nostos and war
The seafaring experience
Wandering for philosophical, religious (theoria) or touristic ends
Colonisation, exile and ostracism

2. Nostos in Homer
Nostos as a story pattern
Nostos and ritual
The nostos narratives and its variants
The effects of absence
Nostos and oblivion
Nostos and death (katabasis)
Wandering (themes of bath, clothes and food mark Odysseus' transition)
Return, disguise and deceptive stories
3. Nostos in Tragedy
Typical roles with their typical themes
The role of the woman (sleepless nights and dreams)
The motif of longing
Women and the failed nostos
The absent male figure
The theme of clothes
The theme of bath and bed
The theme of sacrifice
Nostos and athletic imagery
Nostos and recognition
Secret nostoi (deceit and/or revenge)
Nostos and tragic plot
Messenger-scene in nostos-drama
Nostos-drama and suspense
Welcome scene in nostos-drama
The idealistic nature of the nostos-drama
4. Nostos in Hellenistic Poetry
General on Hellenistic poetry
Nostos in Apollonius' Argonautica
Departure-voyage to Colchis
The role of Medea in the return-story
Return voyage
Hellenistic epigram
Callimachus' selected nostos-epigrams
5. Epilogue
Appendix
Bibliography
Index