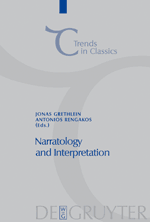 J. Grethlein, A. Rengakos (dir.), Narratology and Interpretation: The Content of Narrative Form in Ancient Literature
Walter de Gruyter, coll. "Trends in Classics - Supplementary Volumes"
EAN: 9783110214529

Jonas Grethlein, Antonios Rengakos (dir.), Narratology andInterpretation: The Content of Narrative Form in Ancient Literature,  Berlin/New York:  Walter de Gruyter, coll. "Trends in Classics - Supplementary Volumes" 4,  2009.  Pp. vii, 630.  
ISBN 9783110214529.  
$140.00.  

Recension par Simon Goldhill (King's College, Cambridge) dans Bryn Mawr Classical Review 2010.02.27.
Extraits en ligne sur books.google.

Présentation de l'éditeur:
The categories of classical narratology have been successfully appliedto ancient texts in the last two decades, but in the meantimenarratological theory has moved on. In accordance with thesedevelopments, Narratology and Interpretation draws out thesubtler possibilities of narratological analysis for the interpretationof ancient texts. The contributions explore the heuristic fruitfulnessof various narratological categories and show that, in combination withother approaches such as studies in deixis, performance studies andreader-response theory, narratology can help to elucidate the contentof narrative form. Besides exploring new theoretical avenues andoffering exemplary readings of ancient epic, lyric, tragedy andhistoriography, the volume also investigates ancient predecessors ofnarratology.
Table des matières:
Jonas Grethlein and Antonios Rengakos "Introduction"
Stephen Halliwell "The Theory and Practice of Narrative in Plato"
Richard Hunter "The Trojan Oration of Dio Chrysostom and Ancient Homeric Criticism"
René Nünlist "Narratological Concepts in Greek Scholia"
Irene de Jong "Metalepsis in Ancient Greek Literature"
Egbert Bakker "Homer, Odysseus and the Narratology of Performance"
Deborah Beck "Speech Act Types, Conversational Exchange, and the Speech Representational Spectrum in Homer"
Jonas Grethlein "Philosophical and Structuralist Narratologies--A World Apart?"
Evanthia Tsitsibakou-Vasalos "Chance or Design? Language and Plot Management in the Odyssey. Klytemnestra ἄλοχος μνηστη ἐμήσατο"
Marios Skempis and Ioannis Ziogas "Arete's Words: Etymology, Ehoie-Poetry and Gendered Narrative in the Odyssey"
Lucia Athanassaki "Narratology, Deixis and the Performance of Choral Lyric. On Pindar's First Pythian Ode"
Georg Danek "Apollonius Rhodius as an (anti-)Homeric Narrator: Time and Space in the Argonautica"
Evina Sistakou "'Snapshots' of Myth: the Notion of Time in Hellenistic Epyllion"
Theodore Papanghelis "Aeneid 5. 362-482: Time, Epic, and the Analeptic Gauntlets"
Francis Dunn "Sophocles and the Narratology of Drama"
Marianne Hopman "Layered Stories in Aeschylus' Persians"
Seth Schein "Narrative Technique in the Parodos of Aeschylus' Agamemnon"
Anna Lamari "Knowing a Story's End: Future Reflexive in the Tragic Narrative of the Argive Expedition against Thebes"
Ruth Scodel "Ignorant Narrators in Greek Tragedy"
Christos Tsagalis "Names and Narrative Techniques in Xenophon's Anabasis"
Nikos Miltsios "The Perils of Expectations: Perceptions, Suspense and Surprise in Polybius' Histories"
Christopher Pelling "Seeing Through Caesar's Eyes: Focalization and Interpretation"
Chrysanthe Tsitsiou-Chelidoni "History Beyond Literature: Interpreting the 'Internally Focalized' Narrative in Livy's Ab urbe condita"
Philip Hardie "Fame's Narratives. Epic and Historiography"