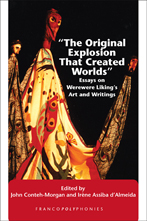 J. Conteh-Morgan & I. Assiba d'Almeida (dir.), "The Original Explosion That Created Worlds". Essays on Werewere Liking's Art and Writings
Rodopi, coll. "Francopolyphonies"
EAN: 9789042029712
"The Original Explosion That Created Worlds". Essays on Werewere Liking's Art and Writings
Sous la direction de John Conteh-Morgan and Irène Assiba d'Almeida

Amsterdam : Rodopi, coll. "Francopolyphonies", 2010.
EAN 9789042029712
363 p.
Prix 72EUR

Présentation de l'éditeur :
"The Original Explosion That Created Worlds" is the first book entirely devoted to the Cameroonian Werewere Liking, one of the most important writers and innovative artists of post-colonial Africa. The book includes a wide-ranging collection of essays by some of Liking's finest critics addressing her life and work, from her earlier fiction and social criticism to her later experimental drama, which has been produced on stages around the world. Several essays also look at Liking's culture-based entrepreneurial work, in which she has attempted to establish a new economic support for African artistic expression.
Liking's excellent but little-known poetry and art criticism, her iconoclastic novels and essays are all the subject of close critical attention in particular studies. There is also consideration of the challenges that her original language and fictional forms present to a literary translator. Liking's work has provoked an extensive commentary, in the popular press as well as in scholarly journals and her critical reception both inside and outside of Africa is carefully examined. The final important inclusions are two plays by Liking published here for the first time in English translations–Liquid Heroes and This Africa of ours...
"The Original Explosion That Created Worlds": Essays on Werewere Liking's Art and Writings may serve as an introduction to the work of one of Africa's most important contemporary artists and one of the most astute commentators on the position of Africa in the new century. To those already familiar with Liking's novels, poetry, plays, criticism or other cultural work it offers an expanded and deepened understanding of her working contexts and the amazing reach of her cultural expression. The book is of necessary interest to all readers, students, and scholars of postcolonial African literatures, of translation studies, and of gender issues.

Table of contents
For John Conteh-Morgan
Acknowledgements
John Conteh-Morgan and Irène Assiba d'Almeida: Introduction
Art, culture, and politics
Michelle Mielly: An Aesthetics of Necessity in the Age of Globalization: Village Ki-Yi as a New Social Movement
Peter Hawkins: Werewere Liking and Artistic Synthesis: A Postcolonial Practice?
Juliana Makuchi Nfah-Abbenyi: Un-Masking the Mediator: Werewere Liking's Flashes of Light
Yvette Balana: La Parole du Mbombock : au-delà des problématiques féministe et francophone
Transgressive narratives: Werewere Liking's fictions
Eloise A. Brière: Recycling the Past: Myth and History in Liking's Work
Odile Cazenave: La mémoire amputée, ou comment raconter les silences de l'Afrique
Hélène Tissières: L'amour-cent-vies: dans la mouvance du voyage et des entrelacs
Spectacle and Myth: Werewere Liking's Drama
Transl. Judith Miller: Werewere Liking, Liquid Heroes (Héros d'eau)
Judith Miller: Liquid Heroes: A Commentary
John Conteh-Morgan: The Rehearsal Is the Play: Dramatic Self- Reflexivity and This Africa of Ours…
Transl. John Conteh-Morgan: Werewere Liking, This Africa of Ours…(Quelque Chose—Afrique) (excerpts)
The starting point: Werewere Liking's Poetry
Joseph E. Mwantuali: Au commencement était le ver(s)
Séwanou Dabla: La poésie transgénérique de Werewere Liking
Translating Werewere Liking: A Synesthetic Experience
Marjolijn de Jager: Translating Werewere Liking: Speaking Pictures, Seeing Words
Jeanne N. Dingomé: Translating Echoes: A Joyride into Werewere Liking's Ritual Drama
Kathryn Batchelor: Translating Texts That Play: Elle sera de jaspe et de corail and its translation into English
Reading Werewere Liking
Irène Assiba d'Almeida: La "misovire" et la critique: La réception des oeuvres de Werewere Liking
Bibliography
Contributors
Index