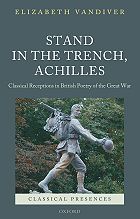 E. Vandiver, Stand in the trench, Achilles: classical receptions in British poetry of the Great War
Oxford University Press, coll. "Classical presences"
EAN: 9780199542741
Elizabeth Vandiver, Stand in the trench, Achilles: classical receptions in British poetry of the Great War. Oxford; New York: Oxford University Press, coll. "Classical presences",  2010. xx, 455 p.
ISBN 9780199542741.
£75.00
Présentation de l'éditeur:
A pioneering study that demonstrates the importance of classics in both popular and 'high' culture during the First World War
Generous quotation from little-known poetsas well as canonical ones allows readers to see the range of classicalreceptions in the poetry discussed
All Latin and Greek is translated
ElizabethVandiver examines the ways in which British poets of the First WorldWar used classical literature, culture, and history as a source ofimages, ideas, and even phrases for their own poetry. Vandiver arguesthat classics was a crucial source for writers from a wide variety ofbackgrounds, from working-class poets to those educated in publicschools, and for a wide variety of political positions and viewpoints.Poets used references to classics both to support and to oppose the warfrom its beginning all the way to the Armistice and after. By exploringthe importance of classics in the poetry of the First World War,Vandiver offers a new perspective on that poetry and on thehistory of classics in British culture.
Readership: Scholarsand students of classics, especially classical reception; literature,especially First World War poetry; history and cultural history,especially of the early 20th century and the First World War.
Table des matières:
Introduction
I. Education, Class, and Classics
1: `Sed Miles, Sed Pro Patria': Classics and Public School Culture
2: `Like the Roman in Brave Days of Old': Middle- and Working-Class Classics
II. Representing War
3: `The Riches of a Spartan Soul': Duty, Honour, Glory, and Sacrifice
4: `The Heroes Stir in their Lone Beds': The Second Trojan War
III. Death and Remembrance
5: `Yet Many a Better One Has Died Before': Deaths Imagined
6: `Their Doom Was Glorious': Commemoration and Remembrance
Conclusion