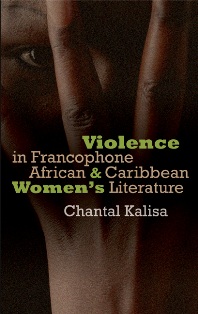 C. Kalisa, Violence in Francophone African and Caribbean Women's Literature
University of Nebraska Press
EAN: 9780803211025
Chantal Kalisa, Violence in Francophone African and Caribbean Women's Literature
Lincoln : University of Nebraska Press, 2009, 236 p.
ISBN : 978-0-8032-1102-5
Prix : 45 $
Présentation de l'éditeur :
Africanand Caribbean peoples share a history dominated by the violentdisruptions of slavery and colonialism. While much has been said aboutthese "geographies of pain," violence in the private sphere,particularly gendered violence, receives little attention. This bookfills that void. It is a critical addition to the study of African andCaribbean women's literatures at a time when women from these regionsare actively engaged in articulating the ways in which colonial andpostcolonial violence impact women. ChantalKalisa examines the ways in which women writers lift taboos imposed onthem by their society and culture and challenge readers with theirunique perspectives on violence. Comparing women from different placesand times, Kalisa treats types of violence such as colonial, familial,linguistic, and war-related, specifically linked to dictatorship andgenocide. She examines Caribbean writers Michele Lacrosil, SimoneSchwartz-Bart, Gisèle Pineau, and Edwidge Danticat, and Africans KenBegul, Calixthe Beyala, Nadine Bar, and Monique Ilboudo. She alsoincludes Sembène Ousmane and Frantz Fanon for their uniquecontributions to the questions of violence and gender. This studyadvances our understanding of the attempts of African and Caribbeanwomen writers to resolve the tension between external forms of violenceand internal forms resulting from skewed cultural, social, andpolitical rules based on gender.
ChantalKalisa is an associate professor of francophone studies in theDepartment of Modern Languages and Literatures and in the Women's andGender Studies Program at the University of Nebraska–Lincoln. She is acoeditor of a book in French on the Rwandan genocide.
Adresse : University of Nebraska-Lincoln 1111 Oldfather Hall Lincoln, NE 68588