collectif|
Nouvelle parution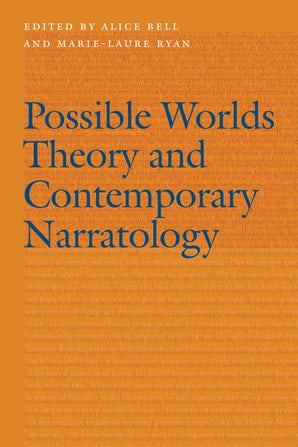 A. Bell, M-L. Ryan (dir.), Possible Worlds Theory and Contemporary Narratology
Possible Worlds Theory and Contemporary Narratology
Sous la direction d'Alice Bell et Marie-Laure Ryan 
Janvier 2019
University of Nebraska Press
354 p.
60,00 $
ISBN : 978-0-8032-9499-8
PRÉSENTATION
The notion of possible worlds has played a decisive role in postclassical narratology by awakening interest in the nature of fictionality and in emphasizing the notion of world as a source of aesthetic experience in narrative texts. As a theory concerned with the opposition between the actual world that we belong to and possible worlds created by the imagination, possible worlds theory has made significant contributions to narratology.

Possible Worlds Theory and Contemporary Narratology updates the field of possible worlds theory and postclassical narratology by developing this theoretical framework further and applying it to a range of contemporary literary narratives. This volume systematically outlines the theoretical underpinnings of the possible worlds approach, provides updated methods for analyzing fictional narrative, and profiles those methods via the analysis of a range of different texts, including contemporary fiction, digital fiction, video games, graphic novels, historical narratives, and dramatic texts. Through the variety of its contributions, including those by three originators of the subject area—Lubomír Doležel, Thomas Pavel, and Marie-Laure Ryan—Possible Worlds Theory and Contemporary Narratologydemonstrates the vitality and versatility of one of the most vibrant strands of contemporary narrative theory.
AUTRICES
Alice Bell is a reader in English language and literature at Sheffield Hallam University in England. She is the author of The Possible Worlds of Hypertext Fiction and the coeditor of Analyzing Digital Fiction. 
Marie-Laure Ryan is an independent scholar and the laureate of the 2017 Wayne Booth Prize for Lifetime Achievement from the International Society for the Study of Narrative. She is the author and editor of numerous books and is the coauthor of Storyworlds across Media: Toward a Media-Conscious Narratology (Nebraska, 2014).
TABLE DES MATIÈRES
List of Illustrations
List of Tables
Introduction: Possible Worlds Theory Revisited
Marie-Laure Ryan and Alice Bell
Part 1. Theoretical Perspectives of Possible Worlds
1. Porfyry's Tree for the Concept of Fictional Worlds
Lubomír Doležel
2. From Possible Worlds to Storyworlds: On the Worldness of Narrative Representation
Marie-Laure Ryan
3. Interface Ontologies: On the Possible, Virtual, and Hypothetical in Fiction
Marina Grishakova
Part 2. Possible Worlds and Cognition
4. Ungrounding Fictional Worlds: An Enactivist Perspective on the "Worldlikeness" of Fiction
Marco Caracciolo
5. Postmodern Play with Worlds: The Case of At Swim-Two-Birds
W. Michelle Wang
6. Logical Contradictions, Possible Worlds Theory, and the Embodied Mind
Jan Alber
Part 3. Possible Worlds and Literary Genres
7. Escape into Alternative Worlds and Time(s) in Jack London's The Star Rover
Christoph Bartsch
8. "As Many Worlds as Original Artists": Possible Worlds Theory and the Literature of Fantasy
Thomas L. Martin
9. The Best/Worst of All Possible Worlds? Utopia, Dystopia, and Possible Worlds Theory
Mattison Schuknecht
Part 4. Possible Worlds and Digital Media
10. Digital Fictionality: Possible Worlds Theory, Ontology, and Hyperlinks
Alice Bell
11. Possible Worlds, Virtual Worlds
Françoise Lavocat
12. Rereading Manovich's Algorithm: Genre and Use in Possible Worlds Theory
Daniel Punday
Postface
Thomas G. Pavel
Contributors
Index
REVIEWS
"This book is a masterly summary of the progress made so far in the application of possible worlds theory to narratology and a valuable indicator of the many fascinating and thought-provoking directions in which research can be taken in the future. This book should be read by everyone with an interest in narrative theory."—Alan Palmer, author of Fictional Minds
"This collection is likely to become a kind of one-stop shop for scholars working on a range of related problems at the forefront of current narrative research: fictionality, digital media, transfictionality and transmediality, post-postmodernism, the poetics of science fiction and fantasy, [and more]."—Brian McHale, Distinguished Humanities Professor of English at Ohio State University