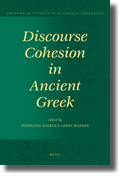 S. Bakker, G. Wakker (dir.), Discourse Cohesion in Ancient Greek
Brill, coll. "Amsterdam Studies in Classical Philosophy 16"
EAN: 9789004174726

Stéphanie Bakker, Gerry Wakker (dir.), Discourse Cohesion in Ancient Greek.   Leiden/Boston:  Brill, coll. "Amsterdam Studies in Classical Philosophy" 16,   2009.  Pp. xx, 284.  
ISBN 9789004174726.  
$138.00.  

Recension par José Marcos Macedo (Universidade de São Paulo) dans Bryn Mawr Classical Review 2010.10.73.
Présentation de l'éditeur:
Central in this volume of the 6th International Colloquium on Ancient Greek Linguistics is the question how cohesion is created in Ancient Greek texts. The contributions to the volume either discuss the various cohesive devices that occur in a specific text or focus on the use and function of a particular cohesion device in a larger corpus. Apart from the use of pronomina and particles, less standard cohesive devices, like the use of tense and the grammatical form of complements, are taken into consideration. The result is a volume that gives a good impression of recent research in the field of Greek linguistics, not only of interest for classical scholars, but also for general linguists interested in discourse coherence cnd cohesion.

Table des matières:
Introduction / Stéphanie J. Bakker and Gerry C. Wakker

Discourse cohesion through third person pronouns : the case of [keinos] and [autos] in Homer / Anna Bonifazi
Pragmatic presupposition and complementation in classical Greek / Luuk Huitink
On the curious combination of the particles [gar] and [oun] / Stéphanie J. Bakker
'Well I will now present my arguments.' : discourse cohesion marked by [oun] and [toinyn] in Lysias / Gerry C. Wakker
The particles [au] and [aute] in ancient Greek as topicalizing devices / Antonio R. Revuelta Puigdollers
[Kai mēn], [kai dē] and [ēdē] in tragedy and comedy / A. Maria van Erp Taalman Kip
Discourse cohesion in dialogue : turn-initial [alla] in Greek drama / Annemieke Drummen
Greek particles : just a literary phenomenon? / Coulter H. George
Towards a typology of the narrative modes in ancient Greek : text types and narrative structure in Euripidean messenger speeches / Rutger J. Allan
The use of the imperfect to express completed states of affairs : the imperfect as a marker of narrative cohesion / Louis Basset
Involving the past in the present : the classical Greek perfect as a situating cohesion device / Sander Orriens
Discourse cohesion in the proem of Hesiod's Theogony / Albert Rijksbaron.