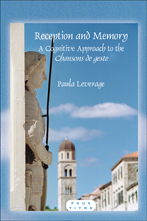 P. Leverage, Reception and Memory. A Cognitive Approach to the Chanson de geste
Rodopi, coll. "Faux Titre"
EAN: 9789042030428
Paula Leverage, Reception and Memory. A Cognitive Approach to the Chanson de geste
Amsterdam/New York : Rodopi, coll. "Faux Titre", 2010.
338 p.
Prix : 68EUR
EAN : 9789042030428
Présentation de l'éditeur :
This book is the first cognitive literary analysis in the field of medieval French literature. As such, it focuses on the question of audience in the Old French epic poems known as chansons de geste. Bringing to bear evidence from historical, literary, and manuscript sources, from the perspective of cognitive theory, Leverage demonstrates that there were multiple, complex audiences of the poems, and that common to each was a more personal, engaged, emotive relationship with the poems than has been recognized previously. Central to the audience's experience of the poems and to the aesthetic of the genre, is memory, both in the sense of a cognitive process and as a theory that has occupied the interest of rhetoricians and philosophers from Antiquity to the present. The book is of interest to medievalists, cognitive theorists, and cognitive scientists working in memory-based text processing.