collectif|
Nouvelle parution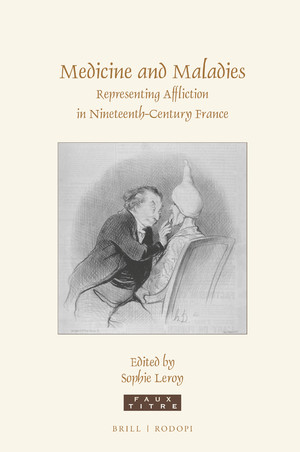 S. Leroy (dir.), Medicine and Maladies. Representing Affliction in Nineteenth-Century France
Medicine and Maladies
Representing Affliction in Nineteenth-Century France
Brill, Series: Faux Titre, Volume: 422
Publication Date: 3 July 2018 — ISBN: 978-90-04-36801-9
Editor: Sophie Leroy
Medicine and Maladies explores the aesthetic, medical, and socio-political contexts that informed depictions of illness and disease in nineteenth-century France. Eleven essays by specialists in nineteenth-century French literature and visual culture probe the acts of writing, reading, and viewing corporeal afflictions across the works of medical practitioners, surgeons, pharmacists, novelists, and artists. Tracing scientific discourse in literary narratives and signalling references to fiction in medical texts, the contributions to this interdisciplinary volume invite us to rethink the relationship between the humanities and the medical sciences.
Sophie Leroy is an Early Career Researcher in French Studies. She has worked as a Teaching Fellow in French at the University of Bristol. Her research interests include the cultures and histories of French geographical sciences and imaginations, and nineteenth-century French literature and visual culture.
Table of contents :
Introduction
By: Sophie Leroy
Pages: 1–15
Documenting Medical Affliction
'Voyez les femmes les plus hommasses, ces viragines audacieuses' : la domestication de la femme masculine dans les traités savants de la première moitié du dix-neuvième siècle
By: Géraldine Crahay
Pages: 19–40
Genre Trouble on the Battlefield: Pharmaceutical, Medical, and Literary Accounts of Napoleonic Campaigns
By: Larry Duffy
Pages: 41–59
Alcoolisme et acédie : le monstre alcoolique dans la pensée clinique du XIXe siècle
By: Julie Müller
Pages: 60–81
Twice Shy: Two Accounts of Timidity in fin-de-siècle France
By: Philippa Lewis
Pages: 82–109
Writing Pathological Experiences
De Karl-des-Monts à Cénéri : lorsque la voix de l'interné entre dans le roman
By: Mélanie Bhend
Pages: 113–131
La Maladie comme métaphore chez Baudelaire
By: Joanna Rajkumar
Pages: 132–153
Emaciation as a Subversive Strategy in Renée Mauperin and an Early Case of 'Hysterical Anorexia'
By: Susannah Wilson
Pages: 154–170
'Dictante Dolore': Writing Pain in Alphonse Daudet's La Doulou
By: Steven Wilson
Pages: 171–189
Reading Body, Mind, and Environment
Against 'Neuronormativity': 'Volcanic' Temperament in Mirbeau's L'Abbé Jules
By: Elizabeth Emery
Pages: 193–216
Genius and Degeneracy: Auguste Rodin and the Monument to Balzac*
By: Natasha Ruiz-Gómez
Pages: 217–250
Courbes névrosées, lignes asthmatiques : usages de la métaphore médicale dans la réception de l'Art Nouveau
By: Cyril Barde
Pages: 251–270
Readership :
All interested in nineteenth-century France, as well as anyone concerned with the broader themes of science and literature, medicine and visual culture, and the history of medical practice and medical discourse.