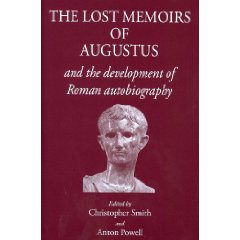 C. Smith and A. Powell (dir.), The lost memoirs of Augustus and the development of Roman autobiography
Classical Press of Wales
EAN: 9781905125258
Christopher Smith and Anton Powell (dir.), The lost memoirs of Augustus and the development of Roman autobiography. Swansea: Classical Press of Wales, 2009. xii, 227 p.
$100.00.
ISBN 9781905125258.

Recension par John Henderson (King's College, Cambridge) dans Bryn Mawr Classical Review 2010.05.23.
Présentation de l'éditeur:
Augustus' Memoirs, written probably in themid 20s BC, might have been one of the most revealing texts of Romanhistory - had they survived. Far longer than his surviving Res Gestae, the Memoirsseem to date from a period at which the wounds of Rome's civil warswere fresh, and the emperor's partisan past might be recalled withdiscomfort. Existing fragments and testimonia have suggested that thework was apologetic in purpose. In this, the first ever comprehensivestudy of the subject, a cast of internationally-respected scholarsreconstruct aspects of the work, its importance for historians, and itsrelation to Roman literary genre. The book also contains, by kindpermission of Oxford University Press, the fragments and testimonia ofthe Memoirs as they will appear, newly edited by Christopher Smith, in 'The Fragmentary Roman Historians'.
Table des matières:
Cato and the origins of the memoir (Tim Cornell);
Was there a genre of the memoir? Or, Did Augustus know what he was doing? (Christopher Pelling);
Octavian the runaway: defending a military reputation in the Memoirs? (Anton Powell);
Why end at the Cantabrian War? (John Rich);
Sulla's Memoirs and Roman autobiography (Christopher Smith);
Felicitas and the Memoirs of Sulla (Alexander Thein);
Divining a lost text: Augustus' autobiography and the Bios Kaisaros of Nicolaus of Damascus (Mark Toher);
Alternative memories: tales from the other side in the civil war (Kathryn Welch);
Augustus, Sulla and the supernatural (Peter Wiseman).