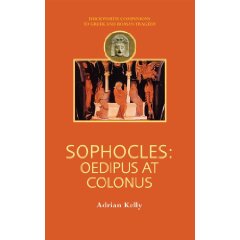 A. Kelly, Sophocles: Oedipus at Colonus
Duckworth, coll. "Duckworth companions to Greek and Roman tragedy"
EAN: 9780715637135
Adrian Kelly, Sophocles: Oedipus at Colonus. London: Duckworth, coll. "Duckworth companions to Greek and Roman tragedy", 2009. 176 p.
£ 12.99 (pb).
ISBN 9780715637135.
Présentation de l'éditeur:
In his final play, Sophocles returns to the ever-popular character ofOedipus, the blind outcast of Thebes, the ultimate symbol of humanreversal, whose fall he had so memorably treated in the Oedipus Tyrannus.Sophocles brings the aged Oedipus to Athens, where he finds refugedespite the threatening arrival of Creon, the new king of Thebes.Oedipus' fierce character is in no way dimmed by his incapacity, and herefuses to aid his repentant son, Polyneices, in his coming attack onThebes, in a way which manifests once more the old man's passionatetemper. His mysterious sacral death at the end of the play seems to bethe only fitting end of such an exceptional figure, for it transformshim into one of the 'powerful dead' whose beneficence towards Athensheralds a positive future. This useful companion provides background,context, a synopsis and detailed analysis of the play.