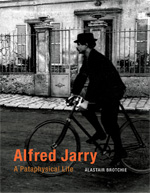 A. Brotchie, Alfred Jarry. A Pataphysical Life
The Mit Press,
EAN : 9780262016193
Date de publication :
Compte rendu publié dans Acta fabula : " Alfred Jarry. Portrait humain d'un surmâle des lettres" par Marieke Dubbelboer.
***
Alastair Brotchie, Alfred Jarry, A Pataphysical Life
Canada : The Mit Press, 2011
EAN : 9780262016193
424 pages
Présentation de l'éditeur :
When Alfred Jarry died in 1907 at the age of thirty-four, he was a legendary figure in Paris--but this had more to do with his bohemian lifestyle and scandalous behavior than his literary achievements. A century later, Jarry is firmly established as one of the leading figures of the artistic avant-garde. Italo Calvino, Umberto Eco, Gilles Deleuze, Jean Baudrillard, Philip K. Dick, Paul McCartney, DJ Spooky, Peter Greenaway, and J. G. Ballard are among his many admirers. A community of scholars and artists maintain a posthumous dialogue with Jarry's ideas through the Collège de 'Pataphysique in Paris (named after the "science of imaginary solutions" he conceived), while a steady stream of books on twentieth-century drama pay tribute to his absurd and grotesque play, Ubu Roi.

Even so, most people today tend to think of Jarry only as the author of that play, and of his life as a string of outlandish "ubuesque" anecdotes, often recounted with wild inaccuracy. In this first full-length critical biography of Jarry in English, Alastair Brotchie reconstructs the life of a man intent on inventing (and destroying) himself, not to mention his world, and the "philosophy" that defined their relation. In short, Brotchie gives us the narrative version of what Jarry himself produced--a pataphysical life. 

Drawing on a wealth of new material, Brotchie alternates chapters of biographical narrative with chapters that connect themes, obsessions, and undercurrents that relate to the life. The anecdotes remain, and are even augmented: Jarry's assumption of the "ubuesque," his inversions of everyday behavior (such as eating backwards, from cheese to soup), his exploits with gun and bicycle, and his herculean feats of drinking. But Brotchie distinguishes between Jarry's purposely playing the fool and deeper nonconformities that appear essential to his writing and his thought, both of which remain a vital subterranean influence to this day.