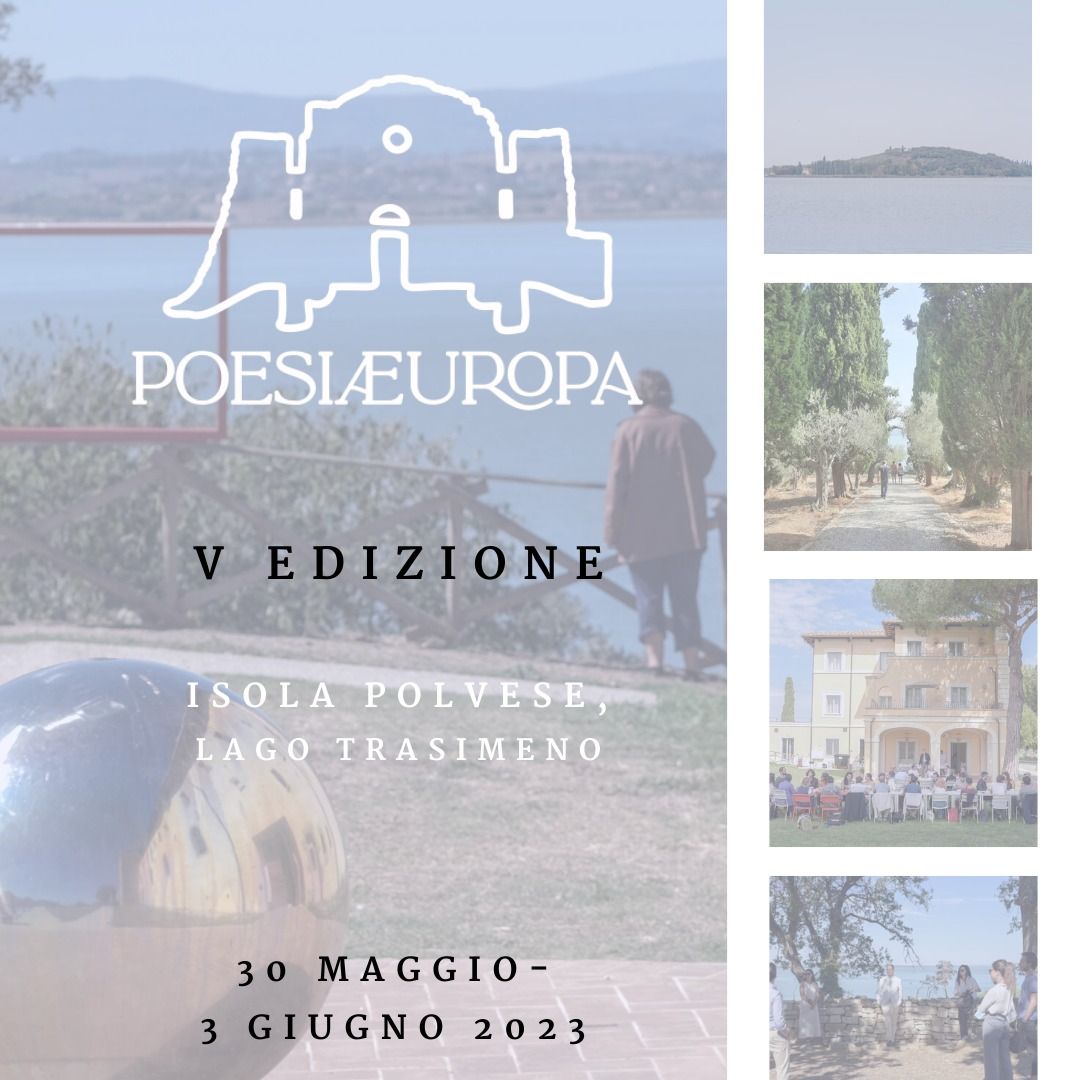 Poesiæuropa 2023. Call for fellowship applications (Italy)
Poesiæuropa - V edition
Polvese Island, Lake Trasimeno, Italy
May 30 - June 3, 2023

call for fellowship applications
Poesiæuropa aims to discuss the features of contemporary humanistic culture, especially from the perspective of poets, to reflect on the value of our cultural and spiritual roots, and to develop – together – a vision for the future. The fifth edition of Poesiæuropa will take place in 2023 and gather authors and scholars from many countries in a special school on the Polvese Island (Lake Trasimeno, Umbria, Italy) from May 30 to June 3, 2023.
The event will include: 
- lectio magistralis; 
- panels; 
- presentations of fellows; 
- readings. 

To apply for the fellowship, which covers accommodation costs: Send your CV and abstract (max 500 words) describing the project you intend to present to the email address info@spaziohumanities.it by April 25, 2023.
Results will be communicated by May 1, 2023. Fellows will present their work at the conference.
There are 20 fellowships available, and applications for them are free: There are no limits of age, job, or nationality. Each fellowship covers accomodation costs, but not travel costs. Another 15/20 subsidies are available: in this case, participants will pay for travel and accommodation costs, but at a special discount. 
—

The 2023 edition of Poesiæuropa will engage with the following areas although there will be some room for broader conversations:

1) Literature and Nature/Technology - This area looks at interactions between literary languages, contemporary social problems, and humanistic culture. This implies a reflection on the landscape inherited from the humanistic tradition but also as an ecological value. We will analyse the meaning of the 'literary' today with respect to new ideas of space and living, nature, and technology; 

2) Eco or Geo? - This area takes into consideration the perspectives of eco-criticism and geo-criticism, specifically their applications to textual analysis, to see how these approaches can show transformations in literary languages; 

3) Textuality and Images - Contemporary reality requires tools for the comprehension and production of texts that deal with media and techno/digital practices that are visual-centric. This third area aims to reflect on the visual components of texts in two main ways: Interactions between word and image, which can be called 'visual disposition' of the writing; and tendencies to adapt the intrinsic components of writing (grammar, syntax, rhetoric etc.) to the perceptive potentiality of texts, influenced by the perceptive potentiality of images, or - on the whole - of multi-sensoriality. 

Poesiæuropa is supported by the High Patronage of the European Parliament and is organized thanks to the collaboration with Arci Spazio Humanities APS. Among the partners of the previous editions: Università degli Studi di Perugia, Regione Umbria, Goethe Institut, Instituto Camões, Forum Austriaco di Cultura, Ambasciata d'Irlanda, Accademia d'Ungheria, Danish Art Foundation.
—
Please find below the references to programs and press of the first four editions:
Ed. I https://www.umbrocultura.com/poesiaeuropa/
Ed. II https://www.umbrocultura.com/poesiaeuropa/aspettandopoesiaeuropa/
Ed. III https://www.umbrocultura.com/poesiaeuropa/poesiaeuropa-2- 5-settembre-2021/
Ed. IV https://www.umbrocultura.com/poesiaeuropa/poesiaeuropa2022/.