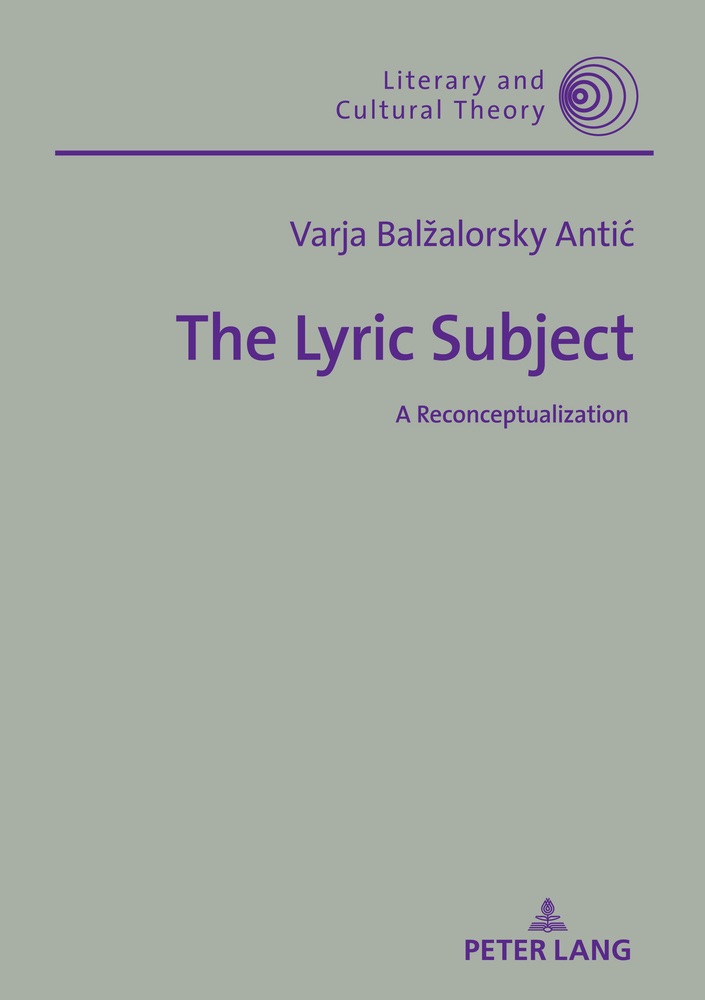 Varja Balžalorsky Antić, The Lyric Subject. A Reconceptualization
Bern, Peter Lang, coll. "Science, Society & Culture", 2022
EAN : 9783631833636
310 pages
Prix : 70 CHF
Date de publication :
This book interrogates the concept of the subject in the poem, against the broader background of literary-theoretical issues related to the lyric subject. Specifically, what kind of subject is the subject in the poem? What relation does it have to other forms of subjectivation that human beings experience in their life practices? What is its singularity?
"The Lyric Subject is a most impressive achievement: a shrewd evaluation of a wide range of writings (philosophical, linguistic, literary) bearing on the question of the lyric subject. With myriad poetic examples, Varja Balzˇalorsky Antic´ develops a rich, multileveled mapping of the various forms of subjectivity and agency in the lyric."
Jonathan Culler, Professor Emeritus at Cornell University, Ithaca, New York.
Table Of Contents
Cover
Title
Copyright
About the author
About the book
Preface
Acknowledgments
Contents
Part I
Chapter 2 The Question of the Subject in Philosophy and Social Sciences
The Subject in Philosophy
The Subject in the Social Sciences
Chapter 3 The Question of the Lyric
Changes in Modern Genre Theory
Genre as the Reality of Discourse
The Lyric
The Lyric Subject and Modern Genre Theory
Part II
Chapter 4 A Note on Terminology
Chapter 5 Historical Fragments: Two Tendencies
Charles Batteux: Les Beaux-Arts réduits à un même principe
Hegel on the Lyric
The Renaissance and Furor Divinus
The Romantic Paradigm
Nietzsche's The Birth of Tragedy from the Spirit of Music
The Emergence of the Concept of Lyrisches Ich
Chapter 6 The Lyric Subject in Modern Literary Theory
The Lyric Subject in The Logic of Literature by K. Hamburger (A Revised Reading)
The Lyric and the Lyric Subject
Karlheinz Stierle: The Identity of Discourse and the Transgressivity of the Lyric and Its Subject
Anthony Easthope's Poetry as Discourse
Proceedings on the Lyric Subject in the Francophone World
Transgeneric Narratological Approaches in the English and German-Speaking Worlds
The Lyric Subject in Slovenian Literary Studies: Janko Kos
Chapter 7 Modern Views on the Subject of the Poem
The Phenomenology of the Affective: The Poetic Subject as an Affective-Pathic Subject
Emil Staiger
Antonio Rodriguez: A Synthesis of Phenomenologies of the Affective
Sensing, Flesh, Stimmung
Julia Kristeva's Semanalysis: The Process of Signifying the Process of the Subject
From the Sign to the Text as an Activity of Signifying
The Subject-in-Process: The Fragmentation of the Unitary Subject
Semiotic Chora, Semiotic, Thetic, and Symbolic
The Genotext and the Phenotext
A Final Note on Kristeva's Semanalysis
Part III
Chapter 8 The Process of the Text and Subjectifying: An Initial Sketch
Chapter 9 Ricœur's Dialectic of Ipse and Idem in the Lyric Persona
Chapter 10 A Rereading of Bakhtin's Theses About Poetry
Chapter 11 Ducrot's Polyphonic Theory of Enunciation
Chapter 12 Benveniste: Subjectifying in Language
Benveniste's Notes About Baudelaire as the Beginnings of His Theory of Poetic Language
Chapter 13 Henri Meschonnic's Poetics of Discourse
References of the Poetics of Discourse
Critique of the Linguistic Sign: Signifiance, Multiple Signifier, Recitative, Continuous, Historicity
The Reconceptualization of Rhythm
The Subject in the Poetics of Discourse
The Transsubject as a Space of Individual and Collective Dialogic Subjectivation
Conclusion
Chapter 14 The Nonegological Theories of the Individual
The Individual
Immediate Consciousness
Parallels between Benveniste's Linguistics of Discourse and Meschonnic's Poetics of Discourse and Nonegological Theories
Schleiermacher's Style and Prereflexive Consciousness
The Prereflexive and Reflexive in (Poetic) Discourse
Part IV
Chapter 15 The Poetic Subject and Subject Configuration of the Poem
Chapter 16 Case Study 1: The Poetic Subject in Troubadour Poetry
Reference Works About the Subject in Troubadour Poetry
Elements of Subjectivation in Medieval Philosophy
The Lyric Persona and Intertextuality
The Level of Enunciation and the Enounced; Metapoem, Performative
The Orchestration of Focalizations and Voices
Meaning-Making in Enunciation: Form–Meaning– Body–Subject
The Intertwinement of Poems and Music: The Melodic Subject, the Collective Subject
Conclusion
Chapter 17 Case Study 2: Analysis of the Poetic Subject in Henri Michaux's Poem "The Slowed Down"
The Matrix of Michaux's Female Poetics
Between the Fullness and Emptiness of the Ego
Flow, Fusion, Division: The Subject of the Enounced and Focalizations
Enunciation
Coherence: Isotopies
Recitative in "The Slowed Down"
Rhythm and Semantic Prosody
Accentual Rhythm
Semantic Prosody
Conclusion
Chapter 18 Recapitulation and Systematization of Subject Configuration
Level of Text Organization: The Textual Subject, Recitative
The Dimension of Enunciation as the Mediative Dimension of the Storyworld: The Subject of Enunciation
The Level of the Storyworld and the Enounced: The Lyric Persona, Focal Points of Subjectivity
Perspective and Focalization
Additional Parameters in the Establishment and Analysis of Subject Configuration
Dimensions of Discursive Situations
Personal Pronouns
Temporality
Temporal and Spatial Deictics
Appendix I Henri Michaux: "La Ralentie"
Henri Michaux: "The Slowed Down"
Appendix II Basic Schema of the Subject Configuration
Subject Configuration in the Poem
Perspectives and Focalizations
Bibliography
Index of Subjects
Index of Names
Series Index