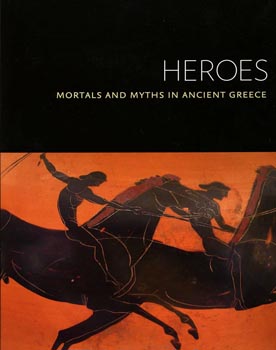 S. Albersmeier (dir.), Heroes: Mortals and Myths in Ancient Greece
Walters Art Museum
EAN: 9780300154726

Sabine Albersmeier (dir.), Heroes: Mortals and Myths in Ancient Greece,  Baltimore:  Walters Art Museum, 2009.  Pp. 328.  
ISBN 9780300154726.  
$65.00.  
Recension par Susan B. Matheson (Yale University Art Gallery) dans Bryn Mawr Classical Review 2010.04.03.
Présentation de l'éditeur:
To contemporary eyes, Greek heroes embody contradiction: they might have superhuman powers, but their mortality was what made them heroic. Many were regarded as benevolent ancestors with powers to protect and heal, but others were dangerous and haunted spirits of the dead, who had to be appeased. Although epic, drama, and the visual arts abound in representations of heroes whose fame has carried over into modern times, cult and funerary architecture commemorate many more individuals whose names and deeds are entirely lost to us.
This handsome volume, accompanying an exhibition organized by the Walters Art Museum, in association with the Frist Center for the Visual Arts, Nashville, the San Diego Museum of Art, and the Onassis Cultural Center, New York, explores the integral role of heroes in ancient Greek art and culture. More than a hundred stunning statues, reliefs, vases, bronzes, coins, and gems drawn from the collection of the Walters Art Museum, as well as other major American and European collections, highlight how heroes were represented, why they were important, and what encouraged individuals to seek them out.
Featuring essays by leading authorities in the field, this book draws on recent archaeological, literary, and art historical research to explore such issues as gender, cult, and iconography, as well as overlooked aspects of familiar and unfamiliar heroes.
Table des matières:
Jorge J. Bravo III, "Recovering the Past: The Origins of Greek Heroes and Hero Cult"
Four Paradigmatic Heroes
Jennifer Larson, "The Singularity of Herakles"
Guy Hedreen, "Achilles Beyond the Iliad"
H.A. Shapiro, "Helen: Heroine of Cult, Heroine in Art"
Ralf von den Hoff, "Odysseus: An Epic Hero with a Human Face"

John H. Oakley, "Child Heroes in Greek Art"
Corinne Ondine Pache, "The Hero Beyond Himself: Heroic Death in Ancient Greek Poetry and Art"
Jenifer Neils, "Beloved of the Gods: Imag(in)ing Heroes in Greek Art"
Gunnel Ekroth, "The Cult of Heroes"
Michael J. Anderson, "Heroes as Moral Agents and Moral Examples"
Catalogue
Heroes in Myth
Heroes in Cult
Emulation