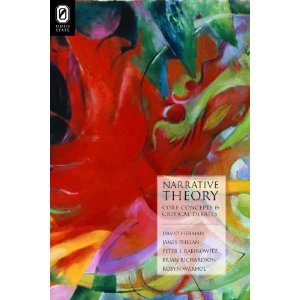 D. Herman et alii, Narrative Theory. Core Concepts and Critical Debates
Ohio State University Press, coll. "Theory and Interpretation of Narrative"
EAN: 9780814251843
Date de publication : 0 avril 2012
Information publiée le 7 juin 2012 par Bérenger Boulay
Compte rendu publié dans Acta fabula : "Quatre perspectives « post-classiques » en théorie narrative" par Sabrina Parent.
***
David Herman, James Phelan, Peter J. Rabinowitz, Brian Richardson, Robyn Warhol
Narrative Theory. Core Concepts and Critical Debates
Columbus, Ohio State University Press, coll. "Theory and Interpretation of Narrative", 2012
Paperback
353 p.
ISBN-13: 978-0814251843
Présentation de l'éditeur:
Narrative Theory: Core Concepts and Critical Debates addresses two frequently asked questions about narrative studies: "what is narrative theory?" and "how do different approaches to narrative relate to each other?" In engaging with these questions, the book demonstrates the diversity and vitality of the field and promotes a broader dialogue about its assumptions, methods, and purposes.
In Part One, the co-authors explore the scope and aims of narrative from four distinct perspectives: rhetorical (Phelan and Rabinowitz), feminist (Warhol), mind-oriented (Herman), and unnatural (Richardson). Using case studies (Huckleberry Finn, Persuasion, On Chesil Beach, and Midnight's Children, respectively), the co-authors explain their different takes on the same core concepts: authors, narrators, narration; plot, time, and progression; space, setting, and perspective; character; reception and the reader; and narrative values. In Part Two, the co-authors respond to one another's views. As they discuss the relation of the approaches to each other, they highlight significant current debates and map out key developments in the field.
Accessibly written, Narrative Theory can serve as the basis for a wide range of courses, even as its incisive presentation of four major approaches and its lively give-and-take about the powers and limitations of each make the book an indispensable resource for specialists.
David Herman, James Phelan, and Robyn Warhol are faculty members in the Department of English at The Ohio State University, Peter J. Rabinowitz in the Department of Comparative Literature at Hamilton College, and Brian Richardson in the Department of English at the University of Maryland.