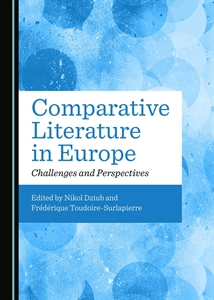 N. Dziub et F. Toudoire-Surlapierre (dir.), Comparative Literature in Europe : Challenges and Perspectives
Cambridge Scholars Publishing
EAN: 9781527522268
Référence bibliographique : N. Dziub et F. Toudoire-Surlapierre (dir.), Comparative Literature in Europe : Challenges and Perspectives, Newcastle upon Tyne, Cambridge Scholars Publishing, 2019.
EAN13 : 9781527522268.
Thanks to its historical, theoretical, and methodological dimensions, this book is unique, both in Europe and in the USA. It brings together researchers from across Europe to explain how comparative literature works, both on an institutional and a technical level, in the country in which they teach. The contributions also define the characteristics of European comparative literature on a continental level. From Austria to Ukraine, by way of Belgium, Estonia, Finland, France, Ireland, Lithuania, Luxembourg, Macedonia, Poland, Portugal, Romania, Slovakia, Spain, and Switzerland, this book offers an expansive panorama, placing great emphasis on usually "invisible" countries. Moreover, it relates both to the postcolonial and post-Soviet present and to the future of comparative literature: it is a handbook, but also a laboratory.
Theoretical Introduction
Frédérique Toudoire-Surlapierre
Pratical Introduction
Nikol Dziub
PART I
Comparative Literature and Decoloniality
Chapter One
Comparative Literature and New Hispanisms
César Domínguez
Chapter Two
Comparative Studies in Portugal: the Iberian and the Atlantic Perspectives
Ângela Fernandes
Chapter Three
Teaching and Researching Comparative Literature in a Post-Colonial and Bilingual Context: the Case of Ireland
Brigitte Le Juez
Chapter Four
Comparative Literature in Ukraine: Brotherhood and Periphery
Nikol Dziub
PART II
Comparative Literature and Cross-Cultural Studies
Chapter Five
Comparing in Finland. A Method in a Moving Field
Harri Veivo
Chapter Six
Belgian Comparatism at the Crossroads
Michel Delville
Chapter Seven
Comparison in a Cross-Cultural Context. An Overview of Comparativism in Luxembourg
Jeanne Glesener
Chapter Eight
Comparative Literature in Austria: between Socio-Literary Approaches and Literary Theory
Sandra Vlasta
Chapter Nine
Switzerland, the Ideal Republic of Comparative Literature?
Thomas Hunkeler
PART III               
Proximity and Distance: Comparative Literature and Translation
Chapter Ten
National Literature Gone Comparative—Mobility Challenges in Romanian Studies
Mihaela Ursa
Chapter Eleven               
Comparative Literature in Estonia: Towards a Symbiotic Approach
Katre Talviste
Chapter Twelve              
Comparison in Lithuania: Traditional and New Ideas
Ausra Jurgutienė
PART IV              
Comparative Practices and Perspectives
Chapter Thirteen
The Search for a Method in Slovak Comparative Literary Studies
Róbert Gáfrik
Chapter Fourteen
Comparative Literature—Academic Discipline or/and Intellectual Modus Vivendi: From a Macedonian Standpoint
Sonja Stojmenska-Elzeser
Chapter Fifteen              
The Mole Reads the World. Paradoxes of Comparative Literature in Poland
Ewa Łukaszyk