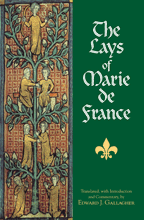 E. J. Gallagher, The Lays of Marie de France, Translated with Introduction and Commentary
Hackett Publishing Company Indianapolis, IN and Cambridge, MA
EAN: 1603841881
The Lays of Marie de France

Translated by Edward J. Gallagher
Indianapolis/CAmùbridge : Hackett Publishing Company, 2010, 225 pp.
Cloth: ISBN : 978-1-60384-189-4, Prix : $39.95
Paper: ISBN : 978-1-60384-188-7 Prix :$12.95
Présentation de l'éditeur : 
This edition includes Edward Gallagher's prose translations of The Lays of Marie de France; a general introduction; a map; commentaries on the lays; two anonymous Breton lays—The Lay of Melion and The Lay of Tyolet; a glossary of proper names; a glossary of specialized terms; and an appendix of selected texts in Old French, includingMarie's Prologue,Guigemar, Bisclavret, and Yonec.

Edward J. Gallagher is Professor of French Studies, Wheaton College, Norton, Massachusetts.
"With admirable sensitivity to the meaning and style of the originals, Edward J. Gallagher has skillfully rendered these charming Old French verse narratives from the late twelfth century into engaging and readable modern English prose. Gallagher includes a detailed commentary on each of the twelve lays, two useful glossaries, and a selection of lays in Old French. Readers will appreciate his substantial and informative introduction to the works of Marie de France and to the illustrious literary and cultural context within which these masterpieces in miniature took shape."  

     —Donald Maddox, University of Massachusetts Amherst
Adresse : Department of French StudiesWheaton CollegeNorton, Massachusetts, USA