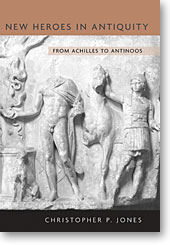 C.P. Jones, New heroes in antiquity : from Achilles to Antinoos
Harvard University Press
EAN: 9780674035867
Chirstopher P. Jones, New heroes in antiquity : from Achilles to Antinoos. Cambridge, MA; London: Harvard University Press, 2010. ix, 123 p.
$29.95.
ISBN 9780674035867.
Extraits en ligne sur books.google.

Présentation de l'éditeur:
Heroes and heroines in antiquity inhabited a space somewhere betweengods and humans. In this detailed, yet brilliantly wide-ranginganalysis, Christopher Jones starts from literary heroes such asAchilles and moves to the historical record of those exceptional menand women who were worshiped after death. He asks why and how mortalswere heroized, and what exactly becoming a hero entailed in terms ofreligious action and belief. He proves that the growing popularity ofheroizing the dead—fallen warriors, family members, magnanimouscitizens—represents not a decline from earlier practice but anadaptation to new contexts and modes of thought. The most famousexample of this process is Hadrian's beloved, Antinoos, who can now belocated within an ancient tradition of heroizing extraordinary youthswho died prematurely. This book, wholly new and beautifully written,rescues the hero from literary metaphor and vividly restores heroism tothe reality of ancient life.
Table des matières:
Acknowledgments
List of Illustrations
Introduction

Poetic Heroes
Local Heroes
Warriors and Patriots
Athletes, Poets, Philosophers
Private Heroes
Greek Heroes in a Roman World
Antinoos
Heroes and Saints

Appendix: Living Heroes?
Notes
Index