édition|
Nouvelle parution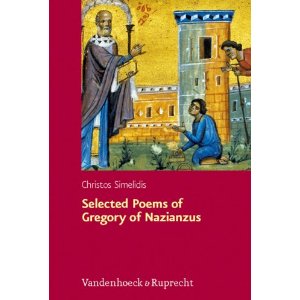 C. Simelidis (ed.), Selected Poems of Gregory of Nazianzus: A Critical Edition with Introduction and Commentary

Christos Simelidis (ed.), Selected Poems of Gregory of Nazianzus: I.2.17; II.1.10, 19.32: A Critical Edition with Introduction and Commentary,   Göttingen:  Vandenhoeck & Ruprech, coll. "Hypomnemata" Bd. 177,  2009.  Pp. 284.  
ISBN 9783525252871.  
€56.90.  

Recension par Edward G. Mathews, Jr. (St. Nersess Armenian Seminary, New Rochelle) dans Bryn Mawr Classical Review 2010.03.24.
Extraits en ligne sur books.google.
Présentation de l'éditeur:
St. Gregory of Nazianzus' (ca. AD 330-390) classicizing Christian verse is the earliest Greek verse of its kind that survives in any great quantity. This is an edition, with introduction and commentary, of four poems. The commentary is primarily linguistic, but attention is paid to historical and theological matters. The poems' fate in Byzantium is also examined and three Byzantine paraphrases are edited in an appendix.
The introduction examines features of Gregory's poetry in general. Gregory was an enthusiastic reader of Callimachus and his use of poetic allusion deserves special attention.