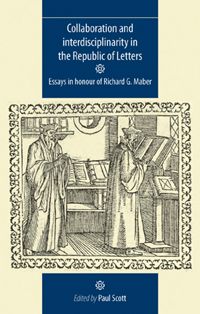 P. Scott (dir.), Collaboration and interdisciplinarity in the Republic of Letters
Manchester University Press,
EAN : 9780719082825
Compte rendu publié dans le dossier critique d'Acta fabula "Le partage des disciplines" (mai 2011, Vol. 12, n°5) et en parallèle du numéro de Fabula-LHT sur le même sujet : "Échanges intellectuels & polémiques dans la République des Lettres" par Karel Vanhaesebrouck.

Collaboration and interdisciplinarity in the Republic of Letters: Essays in Honour of Richard G. Maber,
Sous la direction de Paul Scott
Manchester : Manchester University Press, coll. "Durham Modern Language Series", 2010.

256 p.
EAN 9780719082825
Prix £60
5 illustrations N&B

Présentation de l'éditeur :

The Republic of Letters emerged during the seventeenth century as a concept to describe the interaction between scholars across Europe and beyond. While the concept was an imaginary one, it was firmly grounded in a reality of close circles of interaction between intellectuals, which had always existed but which was now endowed with a renewed sense of collaboration and participation within this community without barriers of statehood or creed. These fifteen essays explore differing aspects of collaboration and interdisciplinarity in the context of the radical change in mindset that the emergence of the Republic of Letters had fostered. Essays deal with French and English theatre, travel writing, the identity of the woman writer, the nature and function of gossip, scholarly interaction, and political and theological ideologies. The concluding essay provides a synthesis of the nature of seventeenth-century scholarship. The volume offers new insights into the mechanisms and workings of the Republic of Letters and charters the transition of scholarly pursuit being classified, even by some scholars themselves, as a solitary and sometimes pedantic pursuit to the notion of a network of ideas and interchange. This self-identification with a transnational league which knew no limits of geography, resources, gender or class marks a radical transition in the history of ideas and was to have far-reaching consequences, solidly preparing the way for the Enlightenment. 
CONTENTS:
Acknowledgements
Preface – Paul Scott
Introduction – Paul Scott
List of complete publications, excluding reviews by Richard Maber
List of contributors
List of illustrations
Part One: Polemical Aspects
1. A puritan collaboration in defence of the liberty of the subject: James Morice, Robert Beale, and the Elizabethan campaign against ecclesiastical authority – Christopher Brooks
2. 'What a do with the Kings and the statues is here': Milton, Marvell, and John Sobieski – Martin Dzelzainis
3. Viper wine – Peter Davidson
4. Paradise lost?: Discovering Amazonia in the Relation de la riviere des Amazones – Joy Charnley
5. Hobbes, Davenant, and disciplinary tensions in The preface to Gondibert – Timothy Raylor
Part Two: Collaborative Boundaries
6. Camille de Morel and the Republic of Letters – Jane Stevenson
7. Woman of parts, Marie le Bailleul, marquise d'Huxelles (1626–1712) – William Brooks
8. Un silence éloquent … un silence moqueur … un silence respectueux: some reflections on seventeenth-century gossip – Nicholas Hammond
9. The book as gift in Elizabethan Durham: Barnabe Barnes's A Divine Centurie of Spiritual Sonnets – Arnold Hunt and Alison Shell
10. From Provence to Prussia: Voltaire's Paméla and the Voyage de Messieurs de Bachaumont et La Chapelle – Jonathan Mallinson
Part Three: Between Page and Stage
11. Suspension points in Molière: print and performance – Michael Hawcroft
12. Corneille's Rome: from centre to periphery – Henry Phillips
13. Shakespeare as collaborator: the case of Titus Andronicus – Paul Hammond
14. The Portia principle: Montfleury's La Femme juge et partie (1668/69) and Fatouville's Colombine avocat pour et contre (1685) – Jan Clarke
15. Texts, travel, and flying machines: the lost world of seventeenth-century scholarship – Richard Maber's inaugural lecture 
Bibliography 

Paul Scott is Assistant Professor of French at the University of Kansas