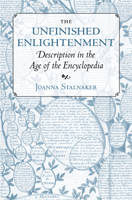 J. Stalnaker, The Unfinished Enlightenment. Description in the Age of the Encyclopedia
Cornell University Press,
EAN : 9780801448645
Compte rendu publié dans Acta fabula : "La description entre épistémologie, poétique, représentation & politique" par Chistof Schöch.
***
Joanna Stalnaker, The Unfinished Enlightenment. Description in the Age of the Encyclopedia
Ithaca et Londres : Cornell University Press, 2010.
EAN 9780801448645
256 p.
Prix 45USD
Présentation de l'éditeur :
In The Unfinished Enlightenment, Joanna Stalnaker offers a fresh look at the French Enlightenment by focusing on the era's vast, collective attempt to compile an ongoing and provisional description of the world. Through a series of readings of natural histories, encyclopedias, scientific poetry, and urban topographies, the book uncovers the deep epistemological and literary tensions that made description a central preoccupation for authors such as Buffon, Bernardin de Saint-Pierre, Diderot, Delille, and Mercier.

Stalnaker argues that Enlightenment description was the site of competing truth claims that would eventually resolve themselves in the modern polarity between literature and science. By the mid-nineteenth century, the now habitual association between description and the novel was already firmly anchored in French culture, but just a century earlier, in the diverse network of articles on description in Diderot and d'Alembert's Encyclopédie and in the works derived from it, there was not a single mention of the novel. Instead, we find articles on description in natural history, geometry, belles-lettres, and poetry. Stalnaker builds on the premise that the tendency to view description as the inevitable (and subservient) partner of narration—rather than as a universal tool for making sense of knowledge in all fields—has obscured the central place of description in Enlightenment discourse. As a result, we have neglected some of the most original and experimental works of the eighteenth century.