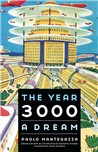 Paolo Mantegazza, The Year 3000. A dream (1897)
University of Nebraska Press, coll. "Bison Frontiers of Imagination"
EAN: 9780803230323
Information publiée le 18 septembre 2010 par Bérenger Boulay (source :
Nicoletta Pireddu
)
Paolo Mantegazza, The Year 3000. A dream

Edited and with an introduction by Nicoletta Pireddu; translated by David Jacobson
University of Nebraska Press, collection "Bison Frontiers of Imagination", 2010, 224 p.
First published in 1897, The Year 3000 is the most daring and original work of fiction by the prominent Italian anthropologist Paolo Mantegazza. A futuristic utopian novel, the book follows two young lovers who, as they travel from Rome to the capital of the United Planetary States to celebrate their "mating union," encounter the marvels of cultural and scientific advances along the way. Intriguing in itself, The Year 3000 is also remarkable for both its vision of the future (predicting an astonishing array of phenomena from airplanes, artificial intelligence, CAT scans, and credit cards to controversies surrounding divorce, abortion, and euthanasia) and the window it opens on fin de siècle Europe.
Published here for the first time in English, this richly annotated edition features an invaluable introductory essay by Nicoletta Pireddu who highlights intertextual and intercultural connections within and beyond Mantegazza's work and national context, with special attention to European models from Mercier, Bodin, and Souvestre to Verne, Robida, Wells and Morris among many others . For its critical contribution to early science fiction and for its insights into the hopes, fears, and clash of values in the Western world of both Mantegazza's time and our own, this book belongs among the visionary giants of speculative literature.
Paolo Mantegazza (1831–1910) was a prominent Italian neurologist, physiologist, anthropologist, defender and correspondent of Darwin, and fiction writer. Nicoletta Pireddu is the director of the comparative literature program and an associate professor of Italian and comparative literature at Georgetown University. She is the editor of Paolo Mantegazza's Physiology of Love and Other Writings. David Jacobson translated Mantegazza's Physiology of Love and Other Writings.