essai|
Nouvelle parution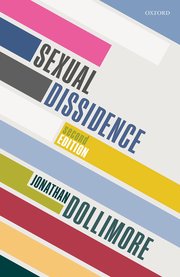 J. Dollimore, Sexual Dissidence (new ed.)
Sexual Dissidence (new ed.)
Jonathan Dollimore
Oxford University Press
ISBN: 9780198827054
464 p. 
30,00 £
PRESENTATION
Why is homosexuality socially marginal yet symbolically central? Why, in other words, is it so strangely integral to the very societies which obsessively denounce it, and why is it history - history rather than human nature - which has produced this paradoxical position?

These are just some of the questions explored in this wide-ranging study of sexual dissidence which returns to the early modern period in order to focus, question, and develop issues of postmodernity. In the process it brilliantly links writers as diverse as Shakespeare, Gide, Wilde, and Genet, and cultural critics as different as St. Augustine, Freud, Fanon, Foucault, and Monique Wittig. So Freud's theory of perversion is discovered to be more challenging than either his critics or his advocates usually allow, especially when approached via the earlier period's archetypal perverts, the religious heretic and the wayward woman, Satan and Eve.

The book further shows how the literature, histories, and sub-cultures of sexual and gender dissidence prove remarkably illuminating for current debates in literary theory, psychoanalysis, and cultural materialism. It includes chapters on transgression and its containment, contemporary theories of sexual difference, homophobia, the gay sensibility, transvestite literature in the culture and theatre of Renaissance England, homosexuality, and race.
TABLE OF CONTENTS
Introduction to Second Edition
Part 1. An Encounter
1: Wilde and Gide in Algiers
Part 2. Perspectives
2: Some Parameters
Part 3. Subjectivity, Transgression, and Deviant Desire
3: Becoming Authentic
4: Wilde's Transgressive Aesthetic and Contemporary Cultural Politics
5: Re-encounters
Part 4. Transgression and its Containment
6: The Politics of Containment
7: Tragedy and Containment
Part 5. Perversion's Lost Histories
8: Towards the Paradoxical Perverse and the Perverse Dynamic
9: Augustine: Perversion and Privation
10: Othello: Sexual Difference and Internal Deviation
Part 6. Sexual: Perversion Pathology to Politics
11: Freud's Theory of Sexual Perversion
12: Deconstructing Freud
13: From the Polymorphous Perverse to the Perverse Dynamic
14: Perversion, Power, and Social Control
15: Thinking the Perverse Dynamic
Part 7. Beleaguered Norms and Perverse Dynamics
16: Homophobia (1): Sexual/ Political Deviance
17: Homophobia (2): Theories of Sexual Difference
Part 8. Transgressive Reinscriptions, Early Modern and Post-modern
18: Subjectivity and Transgression
19: Early Modern: Cross-Dressing in Early Modern England
20: Post/modern: On the Gay Sensibility of the Pervert's Revenge on Authenticity: Wilde, Genet, Orton, and Others
Part 9. Beyond Sexual Difference
21: Desire and Difference
Afterword
JONATHAN DOLLIMORE
Jonathan Dollimore pioneered cultural materialism; then he pioneered gay studies. He subsequently turned his attention to a fresh interrogation of those dark, recalcitrant elements of desire and mortality which resist utopian transformation. His influential books include Radical Tragedy (1984), Death, Desire and Loss in Western Culture (1998), Sex Literature and Censorship (2001) and, with Alan Sinfield, Political Shakespeare (1985).
Dollimore's most recent, path-breaking intervention is the powerfully personal Desire: a Memoir (Bloomsbury, 2017). Dollimore has held professorships at the Universities of Sussex and York, and he has lectured and taught throughout the world.