essai|
Nouvelle parution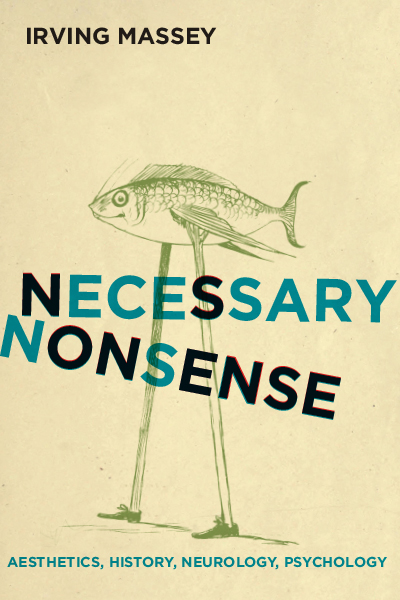 I. Massey, Necessary Nonsense. Aesthetics, History, Neurology, Psychology
Necessary Nonsense. Aesthetics, History, Neurology, Psychology
Irving Massey
Ohio State University Press
208 p.
$59.95  
ISBN: 978-0-8142-1379-7
PRESENTATION
"Necessary Nonsense is at once a learned and an entertaining book. Irving Massey pursues not only such expected nonsense suspects as Lewis Carroll and Edward Lear, but he also has much to say about Keats's poems and philosophical texts by Kant and Wittgenstein, not to speak of examples drawn from other art forms that challenge our sense of what constitutes 'sense.'" —Herbert S. Lindenberger, Avalon Foundation Professor of Humanities, Emeritus, Stanford University
"This elegant essay may be the best book ever written on nonsense. It explains its occurrence and necessity in the human mind, in perception and language, in poetry and art, in life and thinking. Nonsense is what makes us human. The sense in which nonsense is meaningful in this way is made clear and will be game-changing to all readers." —Per Aage Brandt
What is nonsense? How has it permeated our day-to-day speech and thought processes in order to become a vital part of the way we interpret the world? In Necessary Nonsense: Aesthetics, History, Neurology, Psychology, world-renowned expert Irving Massey commits nearly forty years of scholarly musings on the topic of nonsense to the page. Employing a writing style of overlap, repetition, discontinuity, and contradiction in order to describe the history and of grammatical, philosophical, and semantic nonsense, Massey opens his readers to the cognitive possibilities of accepting nonsense as a fundamental human feature.
In Necessary Nonsense, Massey explores a range of literary and philosophical subjects, from Immanuel Kant to Lewis Carroll—parsing the ways in which nonsense permeates their writing and dialectics—including an exploration of the inability of those who suffer from Asperger's syndrome to distinguish between metaphor and nonsense, and an investigation of the neural signature of the nonsense words and phrases that occur during the transition from waking to sleep. Massey argues that while nonsense may be the "archenemy of reason," it is also tied to the intrinsic nature of reason; the two, simply put, cannot exist without each other. Through a stunning array of exploratory topics, Massey concludes that we all live under a canopy of nonsense.
AUTHOR
Irving Massey is Professor Emeritus at the State University of New York at Buffalo. He is the author, most recently, of The Neural Imagination: Aesthetic and Neuroscientific Approaches to the Arts.
TABLE OF CONTENTS
Acknowledgments
Introduction
Chapter 1    Nonsense: Usage and Uses
Chapter 2    Metaphor and Nonsense
Chapter 3    The Baroque: Nonsense in Prospect and Retrospect
Chapter 4    Salutary Nonsense: Keats, Kant, and Madame de Staël; or Inspiration vs. Fanaticism
Chapter 5    Neural Nonsense: Neuroaesthetics, Hypnagogia, and the Aesthetics of Nonsense
Chapter 6    Perceptual Nonsense: The "Image Made by Chance," Automaticity, and the Aesthetic Universal
Chapter 7    Assorted Nonsense
Works Cited
Index