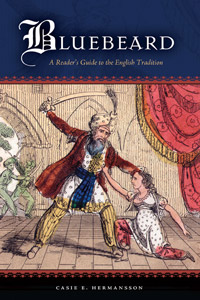 C. E. Hermansson, Bluebeard: A Reader's Guide to the English Tradition
University Press of Mississippi,
EAN : 9781604732313
Date de publication :
Bluebeard. A Reader's Guide to the English Tradition
Casie E. Hermansson
Etats-Unis : University Press of Mississippi, 2009, 304 p
978-1-60473-230-6 Unjacketed cloth $60.00S
Extraits en ligne (books.google.fr)
Présentation de l'éditeur:
A study of the ever-evolving fairy tale about the murderous aristocrat and his endangered wife.
Bluebeardis the main character in one of the grisliest and most enduring fairytales of all time. A serial wife murderer, he keeps a horror chamber inwhich remains of all his previous matrimonial victims are secreted fromhis latest bride. She is given all the keys but forbidden to open onedoor of the castle. Astonishingly, this fairy tale was a nursery roomstaple, one of the tales translated into English from CharlesPerrault's French Mother Goose Tales.
Bluebeard: A Reader's Guide to the English Tradition isthe first major study of the tale and its many variants (some, like"Mr. Fox," native to England and America) in English: from theeighteenth- and nineteenth-century chapbooks, children's toybooks,pantomimes, melodramas, and circus spectaculars, through the twentiethcentury in music, literature, art, film, and theater.
Chronicling the story's permutations, the book presentsexamples of English true-crime figures, male and female, calledBluebeards, from King Henry VIII to present-day examples. Bluebeardexplores rare chapbooks and their illustrations and the Englishtransformation of Bluebeard into a scimitar-wielding Turkish tyrant ina massively influential melodramatic spectacle in 1798. Following thekiller's trail over the years, Casie E. Hermansson looks at the impactof nineteenth-century translations into English of the German fairytales of the Brothers Grimm, and the particularly English story of howBluebeard came to be known as a pirate. This book will provide readersand scholars an invaluable and thorough grasp on the many strands ofthis tale over centuries of telling.
Casie E. Hermansson is an associate professor of English at Pittsburg State University. Author of Reading Feminist Intertextuality through Bluebeard Stories, she has also published in the University of Toronto Quarterly, Papers on Language and Literature, Studies in American Fiction, and the International Journal of the Humanities.
304 pages (approx.), 6 x 9 inches, 16 color and 14 b&w illustrations, bibliography, index