collectif|
Nouvelle parution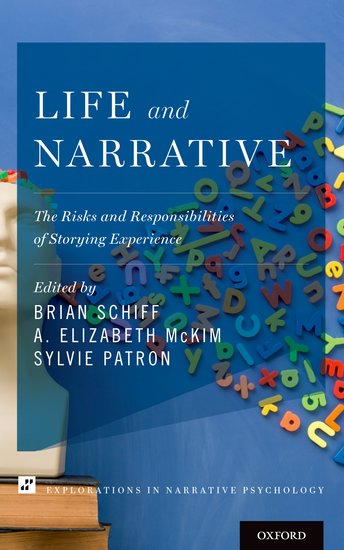 B. Schiff, A. E. McKim et S. Patron, éds, Life and Narrative : The Risks and Responsibilities of Storying Experience
Information publiée le 20 février 2017 par Université de Lausanne (source :
Sylvie Patron
)
Référence bibliographique : Brian Schiff, A. Elizabeth McKim et Sylvie Patron, éds, Life and Narrative: The Risks and Responsibilities of Storying Experience, Oxford University Press, collection "Explorations in Narrative Psychology", 2017. EAN13 : 9780190256654.
Drawing upon innovative theoretical and empirical scholarship presented at Narrative Matters 2012: Life and Narrative (The American University of Paris, May 29-June 1, 2012), this volume seeks to make a significant contribution to our under­standing of the dynamic interplay of life and narrative by creatively addressing it from multiple angles. It features cross-disciplinary work by cutting-edge scholars in the social sciences and the humanities, including Jens Brockmeier, Jerome Bruner, Mark Freeman, Alexandra Georgakopoulou, James Phelan, and Brian Richardson. Four main intellectual contributions distinguish this volume. First, the contributors clearly detail the conceptual and empirical frameworks for describing the mutual construction of narrative and life. Second, the volume illustrates the tension between the need for narratives to hold and represent factual experiences and the power of narrative to conjure coherent worlds of imagination. Third, the volume explores the tension between the power of social and cultural forces to influence, or even impose, pre-configured interpretations on experience and the ingenuity of persons to create their own interpretations of experience. Finally, the problem of life and narrative is conceived as a cross-disciplinary problem. Cross-disciplinary study is crucial for thinking through basic problems in the social sciences and the humanities. There is still little dialogue among the disciplinary groups studying narrative, but these are conversations without boundaries, and limiting the scope leaves out critical perspec­tives that can advance knowledge of narrative, literature, and human beings. This volume aims to introduce a wide range of narrative scholars to the broader questions that narrative studies entails.
Table of Contents
Foreword: Life Meets Narrative
Matti Hyvärinen
Introduction: Life and Narrative; A Brief Primer
Brian Schiff, Sylvie Patron, and A. Elizabeth McKim
Part I. Routes
1. Narrative and Law: How They Need Each Other
Jerome Bruner
2. Narrative at the Limits (Or: What is "Life" Really Like?)
Mark Freeman
3. Narrative/Life of the Moment: From Telling a Story to Taking a Narrative Stance
Alexandra Georgakopoulou
4. Narrative Fiction, the Short Story, and Life: The Case of Tobias Wolff's "Bullet in the Brain"
James Phelan
II. The Ethics of Narrating Life
5. On the Use and Abuse of Narrative for Life: Towards an Ethics of Storytelling
Hanna Meretoja
6. Identity Hoaxes and the Complicity of Social Authorship
Ashley Barnwell
7. Turning Life into Stories-Turning Stories into Lives
Lars-Åke Skalin
III. Self-Making
8. The Body as Biography
Emily Heavy
9. Narrative Refashioning and Illness: Doctor-Patient Encounters in Siri Hustvedt's The Shaking Woman
Jarmila Mildorf
10. Phototextuality in Sophie Calle's Des Histoires Vraies
Catherine Karen Roy
IV. Master Narratives and Personal Narratives
11. The Intersection of Personal and Master Narratives: Is Redemption for Everyone?
Andrea V. Breen and Kate C. McLean
12. Shared Narratives and the Politics of Memory: Toward Reconciliation
Michael Keren
13. Engaging Crystallization to Understand Life and Narrative: The Case of Active Aging
Cassandra Phoenix and Noreen Orr
V. Narrating Life in Oral History and Literature
14. The Difference of Fiction
Brian Richardson
15. Lumping, Splitting, and Narratives as Rhetorical Actions: Notes on Christina J. Pan's "Reminiscences" and Deborah Eisenberg's "Twilight of the Superheroes"
James Phelan
16. Who tells whose story? Beyond Everyday and Literary Stories, Fact, and Fiction
Alexandra Georgakopoulou
17. Narrative and Truth: Some Preliminary Notes
Mark Freeman
18. Witnessing the Impact: 9/11 in Everyday and Literary Stories
Jens Brockmeier
Afterword: Narrative and Life: From So What? to What Next?
William L. Randall