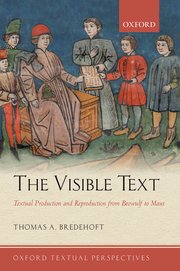 T. A. Bredehoft, The Visible Text. Textual Production and Reproduction from Beowulf to Maus
Oxford University Press
EAN: 9780199603152
Compte rendu publié dans Acta fabula (Février 2018, vol. 19, n°2) : "Dossier : Le Moyen Âge pour laboratoire": Florian Besson, "Comment lire un texte non textuel ?"
Thomas A. Bredehoft, The Visible Text. Textual Production and Reproduction from Beowulf to Maus
Oxford, Oxford University Press, 2014.
192 p.
EAN : 9780199603152
Prix : £20.00
Présentation de l'éditeur :
Covering materials ranging from Anglo-Saxon manuscripts and inscribed objects to contemporary comics, The Visible Text rewrites the history of textual media and technologies. Arguing that media are not defined by technologies alone, but by a combination of technologies and the ideas that people hold about those technologies, Bredehoft identifies four distinct periods or domains in the history of English literature that correspond to four ways in which media ideologies interacted with the two basic defining technologies of manuscripts and printed books.

Examining two complementary ways of defining texts (as subject to a reproductive medium, on the one hand, and as surrounded and defined by paratexts, on the other), The Visible Text points out how Anglo-Saxon manuscripts and contemporary comics share a remarkable similarity in being structured as productions rather than reproductions.

Contrastingly, the late-medieval and print-era periods share a cultural investment in textual reproduction, but they differ both in their characteristic technologies and in how they conceptualize the object of reproduction itself. A final epilogue, briefly considering the nature of electronically-mediated textuality, highlights the importance of understanding the history addressed here, as electonic text both parallels and departs from typographic print in ways that earlier reproductive domains clarify and complicate.

Filled with concrete examples of both books and texts, The Visible Text will be of interest to readers in the fields of literature, book history, literary theory, media studies, and visual culture.