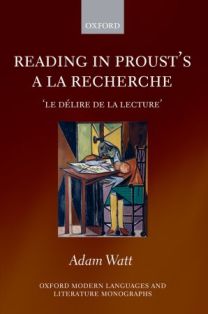 A. Watt, Reading in Proust's A la recherche. 'le délire de la lecture'
Oxford University Pres
EAN: 9780199566174
Date de publication : 0 juin 2009
Compte rendu publié dans le dossier critique d'Acta fabula "Acta par Fabula (avril 2010, Vol. 11, n°4) : "Lire nuit gravement à la santé" par Matthieu Vernet.

Reading in Proust's A la recherche, 'le délire de la lecture'
Adam Watt
Oxford, Oxford University Press, 2009, 208 p.
Isbn 13 (ean): 9780199566174

£55.00 / £44.00 


Through close textual analysis of the scenes of reading in Proust's A la recherche du temps perdu, Adam Watt offers an invigorating new study of the novel and previously unacknowledged paths through it. After considering key childhood 'Primal Scenes' which mark the act of reading as revelatory and potentially traumatic, the book then identifies and examines the interwoven strands of the novel's narrative of reading: showing that scenes where the narrator reads and where others provide 'lessons in reading' are intricately connected within the narrator's ever unfolding considerations of intelligence, sense experience, knowledge, and desire. These acts of reading, often bewildering the narrator with their mix of illuminations, wrong turns and over-determinations, lead us to interrogate our own understanding of the act we accomplish as we read A la recherche. This book emphasizes the complexities and contradictions with which reading (always inescapably an engagement of both mind and body) is riven, and which connect it repeatedly to the experience of involuntary memory. Reading is shown to be frequently fraught with heady instability-'délire'-of a highly revealing sort, from which narrator and readers alike have much to learn. The book's final chapter shows how the narrator's critical energies, turned contemplatively inwards in the Guermantes' library, are subsequently turned outwards for a final interpretive effort-the reading of his now aged acquaintances at the 'Bal de têtes'-in a shift that provides the narrator not only the confidence to begin his work of art, but also the humility to face, undeterred, the approach of death.

Adam Watt est Lecturer in French à l'université Royal Holloway, University of London