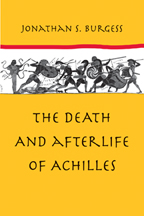 J. S. Burgess, The Death and Afterlife of Achilles
Date de publication : 0 décembre 2008
Jonathan S.Burgess, The Death and Afterlife of Achilles, The Johns Hopkins University Press, décembre 2008, 200p.

Isbn (ean13): 978-0-8018-9029-1

Descriptionde l'éditeur
Achilles'death—by an arrow shot through the vulnerable heel of the otherwise invinciblemythic hero—was as well known in antiquity as the rest of the history of theTrojan War. However, this important event was not described directly in eitherof the great Homeric epics, the Iliad and the Odyssey. Noted classics scholarJonathan S. Burgess traces the story of Achilles as represented in otherancient sources in order to offer a deeper understanding of the death and afterlifeof the celebrated Greek warrior. Through close readings of additional literarysources and analysis of ancient artwork, such as vase paintings, Burgessuncovers rich accounts of Achilles' death, as well as alternative versions ofhis afterlife. Taking a Neoanalytical approach, Burgess is able to trace theinfluence of these parallel cultural sources on Homer's composition of theIliad. With his keen, original analysis of hitherto untapped literary,iconographical, and archaeological sources, Burgess adds greatly to ourunderstanding of this archetypal tragic hero.
L'auteur
Jonathan S.Burgess is a professor of classics at the University of Toronto and author of The Tradition of theTrojan War in Homer and the Epic Cycle, also published by Johns Hopkins