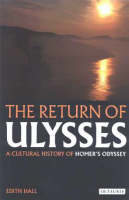 E. Hall, The Return of Ulysses. A Cultural History of Homer's Odyssey
Date de publication : 0 janvier 2008
Edith Hall, The Return of Ulysses - A Cultural History of Homer's Odyssey, Johns Hopkins University Press, 2008, 304p


Isbn (ean13): 978-0-8018-8869-4

Présentation de l'éditeur

Whether they focus on the bewitching song of the Sirens, his cunning escape from the cave of the terrifying one-eyed Cyclops, or the vengeful slaying of the suitors of his beautiful wife Penelope, the stirring adventures of Ulysses/Odysseus are amongst the most durable in human culture. The picaresque return of the wandering pirate-king is one of the most popular texts of all time, crossing East-West divides and inspiring poets and fimmakers wordwide. But why, over three thousand years, has the Odyssey's appeal proved so remarkably resilient and longlasting? Edith Hall explains the enduring fascination of Homer's epic in terms of its extraordinary susceptibility to adaptation.Not only has the story reflected a myriad of different agendas, but - from the tragedies of classical Athens to modern detective fiction, film, travelogue and opera - it has seemed perhaps uniquely fertile in generating new artistic forms. Cultural texts as diverse as Joyce's "Ulysses", Suzanne Vega's "Calypso", Monteverdi's "Il Ritorno d'Ulisse in Patria", the Coen Brothers' "O Brother Where Art Thou?" , Daniel Vigne's "Le Retour de Martin Guerre" and Anthony Minghella's "Cold Mountain" all show that Odysseus is truly a versatile hero. His travels across the wine-dark Aegean are journeys not just into the mind of one of the most brilliantly creative of all the ancient Greek writers. They are as much a voyage beyond the limits of a narrative which can plausibly lay claim to being the quintessential global phenomenon.
Table des matières:

Acknowledgements     vii
Generic Mutations
Embarkation     3
Turning Phrases     17
Shape-Shifting     31
Telling Tales     45
Singing Songs     59
World and Society
Facing Frontiers     75
Colonial Conflict     89
Rites of Man     101
Women's Work     115
Class Consciousness     131
Mind and Psyche
Brain Power     147
Exile from Ithaca     161
Blood Bath     175
Sex and Sexuality     189
Dialogue with Death     203
Notes     217
Bibliography     243
Index     281
L'AUTEUR:
Edith Hall is Professor of Classics and Drama at Royal Holloway, University of London. She is the author and editor of several books - including the Penguin Classics' translation of Sophocles' Antigone, Oedipus the King and Electra - and regularly contributes to TV, radio and professional theatre.