collectif|
Nouvelle parution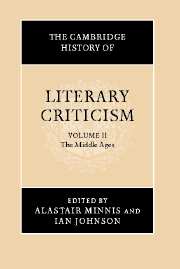 A. Minnis, I. Johnson (éd.), The Cambridge History of Literary Criticism. Vol. 2: The Middle Ages
Alastair Minnis, Ian Johnson (éd.), The Cambridge History of Literary Criticism
Cambridge University Press, 2005, 882 p.
ISBN : 052130007X
This is the first-ever history of the literary theory and criticism produced during the Middle Ages that covers all the main traditions in Latin, the major European vernaculars, and Byzantine Greek. Starting with the study of grammar and the formal 'arts' of poetry, letter-writing and preaching, it proceeds to offer a full description of the Latin commentary tradition on classical and classicizing literature, followed by explanations of medieval views on literary imagination and memory, and the ways in which certain texts were believed to achieve moral profit through pleasure. Subsequent essays explore the diverse theoretical and critical traditions which developed in the vernacular languages, ranging from Medieval Irish to Old Norse, Occitan to Middle High German, concentrating particularly on Dante and his commentators and Italian humanist criticism. The volume concludes with an examination of the attitudes to literature and its uses in Greek Byzantium.

• The first ever full-scale history of medieval literary theory and criticism
• Covers all of medieval Western European literatures and will interest medievalists in a wide range of subjects and languages, including medieval Latin, emergent vernaculars and Byzantine Greek
• Includes essays by 30 well-respected scholars from a range of fields and disciplines
CONTENTS:
Introduction Alastair Minnis and Ian Johnson;
Part I. The Liberal Arts and the Arts of Latin Textuality: 1. Grammatica and literary theory Martin Irvine with David Thomson; 2. The arts of poetry and prose J. J. Murphy; 3. The arts of letter writing Ronald G. Witt; 4. The arts of preaching Siegfried Wenzel;
Part II. The Study of Classical Authors: 5. From late antiquity until the twelfth century Winthrop Wetherbee; 6. From the twelfth century until c.1500 Vincent Gillespie;
Part III. Textual Psychologies: Imagination, Memory, Pleasure: 7. Literary imagination and memory Alastair Minnis; 8. The profits of pleasure Glending Olson;
Part IV. Vernacular Critical Traditions: The Early Middle Ages: 9. Medieval Irish literary theory and criticism Patrick Sims-Williams and Erich Poppe; 10. Anglo-Saxon textual attitudes Ananya Jahanara Kabir; 11. Literary theory and practice in early medieval Germany John Flood; 12. Literary criticism in Welsh before c.1300 Marged Haycock; 13. Criticism and literary theory in Old Norse-Icelandic Margaret Clunies Ross;
Part V. Vernacular Critical Traditions: The Late Middle Ages: 14. Latin commentary tradition and vernacular literature Alastair Minnis, Ralph Hanna, Tony Hunt, Nigel Palmer and Ronald Keightley; 15. Vernacular literary consciousness: English, French, German Kevin Brownlee, Alastair Minnis, Tony Hunt, Ian Johnson and Nigel Palmer; 16. Occitan grammars and the art of Troubadour poetry Simon Gaunt and John Marshall; 17. Literary theory and polemic in Castile, c.1200–c.1500 Julian Weiss; 18. Literary criticism in Middle High German literature Nigel Palmer; 19. Later literary criticism in Wales Gruffydd Aled Williams;
Part VI. Latin and Vernacular in Italian Literary Theory: 20. Dante Alighieri: Experimentation and (self-)exegesis Zygmunt G. Baranski; 21. The Epistle to Can Grande Zygmunt G. Baranski; 22. The Trecento commentaries on Dante's Commedia Steven Botterill; 23. Latin and vernacular from Dante to the age of Lorenzo (1321–c.1500) Martin McLaughlin; 24. Humanist views on the study of Italian poetry in the early Italian Renaissance David Robey; 25. Humanist criticism of Latin and vernacular prose Martin McLaughlin;
Part VII. Byzantine Literary Theory and Criticism: 26. Byzantine literary criticism and the uses of literature Thomas Conley.
CONTRIBUTORS:
Alastair Minnis, Ian Johnson, Martin Irvine, David Thomson, J. J. Murphy, Ronald G. Witt, Siegfried Wenzel, Winthrop Wetherbee, Vincent Gillespie, Glending Olson, Patrick Sims-Williams, Erich Poppe, Ananya Jahanara Kabir, John Flood, Marged Haycock, Margaret Clunies Ross, Ralph Hanna, Tony Hunt, Nigel Palmer, Ronald Keightley, Kevin Brownlee, Simon Gaunt, John Marshall, Julian Weiss, Gruffydd Aled Williams, Zygmunt G. Baranski, Steven Botterill, Martin McLaughlin, David Robey, Thomas Conley